Name: Grace Erickson
From: North Saint Paul, Minnesota
Grade: High School Senior
School: North Senior High School
Votes: 0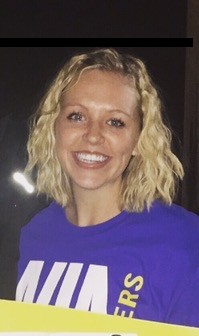 When
I was in high school, I volunteered to teach Sunday School at my
church twice a month during one of the services. My biggest
responsibilities were making sure the lesson got taught as well as
keeping the kids safe and happy so their parents could attend the
church service uninterrupted. This was not always an easy task
because, especially at a young age, it is hard for kids to leave
their parents for an extended period of time. Kids would start
missing a parent and in turn would have a hard time listening to the
lesson. Often we would distract kids from the fact that their parents
were gone, but if one kid started talking about their parents, more
than one would start in. Even if the kids aren't upset by the fact
that their own parents are gone, having a kid crying at the table
distracts others from the lesson. As time went on =, however, I got
more experience teaching the kids and I also got to know the kids
better. By getting to know the children, I learned how to best handle
when they were upset, and they also got more comfortable with me. I
started working with a group of kids when they were infants in the
nursery.
I
followed them up level by level as they went from the toddler room,
two's room, etc. all the way to Kindergarten. It has been so
incredibly rewarding to watch the kids understand more and more about
Jesus each year. I am now able to hear them recite memory verses from
the Bible, pray in front of their peers, and sing in the children's
choir. I feel so incredibly blessed to see them grow physically and
spiritually and know that I had a small part to do with that because
I truly do love sharing my faith whether the person is 3 or 30 years
old. From the position I learned about each child's uniqueness and
how to work with all different children, which benefits me even today
as I work with children in the summer. It has also taught me to take
control of situations when needed.
I
appreciate these skills because as was said previously I continue to
work with kids in the summer. In the summer while I am home from
college I will be working with kids from Kindergarten to Eighth
Grade. The skills I learned from teaching Sunday School can be
applied to this position because I will be able to adjust what I am
doing based on how the child is responding so I can help them do
their best. Working with children can even help me in my future
career. Though my primary focus will not be working with children,
the skills I learned can still help me. My hope is to become an
Orthopedic Surgeon, and I still may have to adjust how I am talking
to a patient should they not understand what is going on. I feel that
it has been very valuable to learn how to adjust based on the person
I am talking to or trying to help understand a concept. In terms of
taking control of the situation, that can also help me as an
Orthopedist. I can take control of the Operating Room should things
not be going as planned or a situation arises.
My hope is that I
can bring the gospel of Jesus to as many people as possible. I feel
that by teaching Sunday School it was good practice for me to be able
to share my faith. It is not something I want to overwhelm people
with, but I know feel more comfortable sharing. I am glad that I
hopefully touched the lives of the kids that I taught, but I know
they would have been exposed at some point with or without me, so by
teaching them I was hoping to foster a change in myself. I believe I
was successful in this thinking because as I had previously
mentioned, I am more willing than I was before to have a conversation
about faith.
As much as I would
like to think that my work in the Sunday School classroom started
this spiral effect where I taught the students, they then shared
their faith and hundreds of people have come to Jesus since then, I
know that it wasn't my work alone. I wasn't the only Sunday
school teacher in the church, and typically the children's parents
would teach the children at home. Though this position didn't
"change the world," it made a difference in the lives of the
parents, the students, me, and ultimately God. Parents usually
appreciate who their children grow up to be, especially if they grow
up in the Lord. By starting to teach the children at a young age,
they develop a foundation to build their faith on. When people are
faithful to God, they can do incredible things.