Name: Maliyah Renee Andazola
From: Morgan Hill, California
Grade: 12
School: Ann Sobrato High School
Votes: 0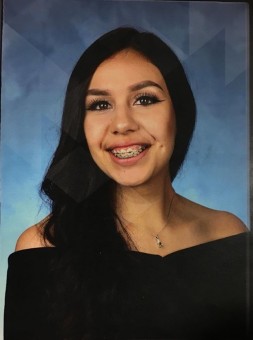 My
Family
As a senior in
high school, It's difficult to find time to participate in
community service due to focusing on balancing school, a social life,
and managing to get enough sleep. For my community service, I
participate in my local community church. We have a youth program in
San Jose where we counsel the next generation ages 12 to 18. We
usually meet 3 times a week and as a leader, my role is to make sure
how their day is going and to check up on their home lives. At first,
I was nervous to become a leader and to counsel these younger girls
because for myself, I felt like I wasn't on the right path to be
successful. Little did I know, these girls really look up to me and
that taught me no matter what I do, there are always people who are
watching me and I need to be careful about the decisions that I make
because It can have an effect on someone else's life. These girls
that I help out, they are either 14 or 15 and a freshman in high
school. Each of them have a different story and are all unique in
their own way. I tend to forget how old they are because so young but
yet, they know so much and they been through many trials to realize
that they need to grow up to take care of themselves. 2 out of 3
girls grew up and live in a tough neighborhood. I understand how
difficult it is to be able to go to school, deal with friends, and
come home to arguing with parents. One of them has a health condition
called Alopecia where you lose all your hair. It's not cancer, but
it's not curable. She tells me how difficult it is to go on with
life and be happy because Alopecia takes away your confidence, and as
a girl, it's hard to lose your hair because every girl dreams to
have beautiful, long hair. Knowing her for quite a while, I've
grown to know that she's a very positive and joyful person no
matter how much trouble she went through to overcome her health
condition. Being so young, she taught me how to be more confident in
myself no matter what flaw I have. In a couple of months, I will be
attending San Francisco State University and by this, it means that I
will be stepping down from leadership to focus on my education. It's
very hard to leave an environment where I felt like this program felt
like family because they made such a great impact in my life. I'm
majoring in child and adolescent development which means I want to
pursue a career working with children and this program that I'm
involved with, helped me with not only communication skills, but to
grow relationships and open up with younger people because we really
make a difference on their life, even if we don't know it.