Name: Jayna A. Sawlani
From: Webster, TEXAS
Grade: Eleventh Grade
School: Clear Springs High School
Votes: 0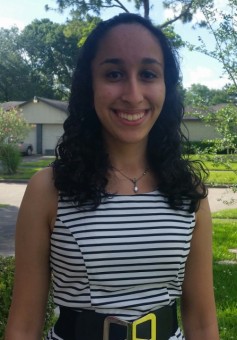 Name:
Jayna A. Sawlani
From:
Webster, TX
Grade:
12th
2016-2017
School:
Clear Springs High School
Votes:
0
Fill
The Bucket
"The
joy of leadership is helping others succeed." Roger Stilson. Ever
since childhood I had a passion for doing things just a little bit
better not just for myself but for others as well. During the time I
was in second grade, I urged my mother and set up a Lemonade Booth to
serve the weary and parched drivers driving down the road with cool
lemonade to help them get through the heat of the summer burn. The
thought of helping and caring for others has always been at the heart
of who I am. As a child growing up I would make hand-made craft items
using the standard art supplies to give away as gifts during special
occasions.
I
volunteered for eighteen hours at the UTMB Health John Sealy Hospital
Galveston in the Summer of 2014. I got the opportunity to work in the
Pediatric Department with some of the very endearing children. I
volunteered at the Houston Food Bank for three hours in August 2015.
It gave me a glimpse of how the deprivation and starvation from
hunger can disrupt and disfigure lives. I was able to help in raising
money for Diabetes by doing car washing at The Watershed Church
League City for five hours in Spring 2016. I have been consistently
volunteering at the Clear Lake City-County Freeman Library and have
signed up to give my time this summer too.
"Many
drops make a bucket, many buckets make a pond, many ponds make a
lake, and many lakes make an ocean." Percy Ross. We live in a
community of very civilized citizens living, enjoying the amenities
of the twenty first century. Each one of us needs to reflect on being
blessed by the enormous reservoir of comfort, joy and luxury and set
aside a few hours every now and then to make our place better, more
joyous and fill it with peace and harmony by doing random acts of
selfless kind gestures. We all have a set of core values by which we
run our day. We need to ensure that consistently we are making a
conscious effort to spread and share those values with others. Make
your mark!!