Name: Amna Aslam
From: BROOKLYN, NY
Grade: amna.aslaam@gmail.com
School: amna.aslaam@gmail.com
Votes: 0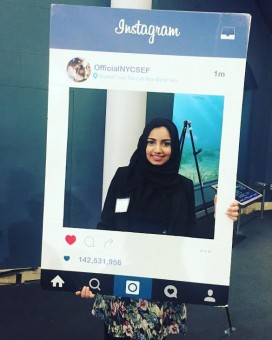 Amna Aslam
"Do fish sleep at night? How does a remote control work? How far
away is the moon?" As a child, I was rarely content with simple
answers to my questions and I always pushed my family to further
explain how the world worked. Growing up, I refused to be kept in the
dark about anything and always enjoyed learning new things. This is
why I chose to pursue oncology research during my junior and senior
year of high school. Being at the
forefront of scientific advancement gave me an infectious feeling of
purpose. I believe that my research experience has greatly
transformed my perception of medicine and has inspired me to work to
become a well-rounded physician.
During
the fall semester of my junior year in high school, I obtained a
position as a research student under the mentorship of Dr. Anjana
Saxena in the biology department at Brooklyn College. My experiences
in Dr. Saxena's lab have surpassed even the most rewarding events
throughout my high school career. Under her mentorship, I engaged in
an independent project involving the role of nucleolar stress factors
in the cellular DNA damage response. The molecular nature of the
project juxtaposed basic science with direct clinical and
physiological relevance, so the work was exciting and at times, a bit
overwhelming. I was an integral part of the lab and felt like an
explorer when I observed breast cancer cell culture, attended
lectures at department seminars, or presented data at lab meetings.
During this time, Dr. Saxena and I applied for and received admission
to present our work to the American Association of Cancer Research.
Our work is currently under review for publication I presented the
poster at the annual conference this April in Washington D.C. I was
also a finalist in various competitions such as the New York City
Science and Engineering Fair (NYCSEF).
My
research experience led me to the decision that a career as a
well-rounded clinician would give me the opportunity to define how
medicine is practiced in the future. What started out as a desire to
do my best in college turned instead into an aspiration to pursue a
vocation, which would fill my life with knowledge and enjoyment. As
my experiences have grown, my thought processes have also slowly
begun to change. Designing experiments requires foresight and a
thorough integration of many concepts learned in the classroom,
abilities I think are important for an individual to possess, and
that I hope I can continue to develop. I feel that my continual
questioning of natural science has been interpreted as a desire to
pursue a multi-faceted career in medicine: a career in which I hope
to combine my eclectic exposures to serve those around me, while
fulfilling my innate interest in biomedical exploration. While the
questions I ask myself now may be different from those I used to ask
as a child, I have certainly not stopped the questioning process and
find myself currently at a crossroad: how will I apply my recent
maturation to my future ambitions? By blending clinical medicine,
instruction, and research I plan to make a lasting contribution to
the medical field.