Name: Blake Michael Stuart
From: Bismarck, North Dakota
Grade: sophomore
School: Bismarck Century High School
Votes: 0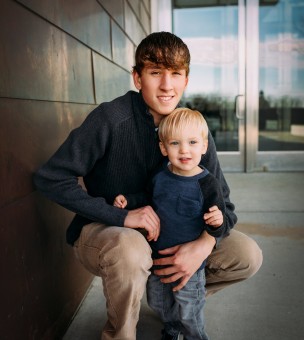 My
First Mission Trip
By:
Blake Stuart
I first volunteered at my church, Charity Lutheran, in 2014. Every
year they have mission trips for volunteer work around the country.
My parents signed me up for the Minneapolis, MN mission trip, which
was a 2-3 day trip and 4-8 hours of volunteer work a day. There were
also 20 to 30 other kids that were dedicated to helping out during
the mission trip.
Our first day in Minnesota, we went to Feed My Starving Children,
which is where you go to pack food in packages that get sent to kids
who are in need of food in countries around the world. Everybody
would be in a group of 4-5 at each packing station. The bags were
filled with rice, extruded soy nuggets, 20 vitamins and minerals with
chicken flavor, and dehydrated vegetables. Each meal averaged around
22 cents to produce and is sent to nearly 70 countries all around the
world.
The next day we all went to more small homeless shelters and clinics
for kids and helped cleaned the buildings, kitchens, floors,
bathrooms, and even the room's people stayed in. We all pitched in
and did the same stuff, just at different places. We got a lot of
stuff cleaned and even helped make beds and tidy up the rooms.
The last day we went to Mary's Place, a foster home for kids and some
adults. At Mary's Place we didn't do any packing food or
cleaning, but we got to go outside and play with kids and talk to
some of the adults and hear their stories. Mary's place had one
soccer field, 2 basketball courts, and a nice park and walking area.
Everybody joined in and played some games of soccer and basketball,
others got to go and talk to some of the older adults and hear about
their stories and what they've gone through to get them to where they
are today. The experience was great and something that I hope other
kids coming up in the church will want go on and feel and see the
same thing I did.
The biggest challenge for me during the trip was the fact that there
are people in this world that actually live like this for a long time
or even for the rest of there life. The volunteer work satisfied me
because it felt really good to help out others and to see their
reaction and to also see that they are happy for what you have done.
It was also really cool to see the kids having so much fun and
playing around with us because who knows if they get that kind of
attention all the time. I learned that volunteer work can really make
you look and think twice about a person and that there's others
also who need help to besides yourself.