Name: Victoria Varela
From: Aventura, FL
Grade: 12
School: Dr Michael Krop Senior High
Votes: 0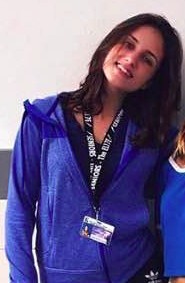 Volunteering for
the American Cancer Society (ACS) for their Making Strides Against
Breast Cancer has been a journey through which I discovered the true
meaning behind the expression "to live life." I
started volunteering for
the ACS two years ago, after my mother was diagnosed with stage two
breast cancer. With just fifteen years of age, I had to start
thinking about death as a possible reality to an entity that was
eternal just a few hours before. Although I knew I would never fully
comprehend the battle she was fighting, I wanted to use
my volunteer work
as an aid to all women and families that were affected by this
terrible disease.
Through
Making Strides Against Breast Cancer, I worked as an aide at the
different marches throughout South Florida. My job was simple, help
organize and set up the event, along with informing participants of
the upcoming endeavors. Yet, what I obtained from the few hours I
spent discussing experiences with survivors and current patients was
cathartic. These strong, independent women taught me about
empowerment, beauty, and life. Their journeys weren't easy ones,
filled with dramatic weight loss, mood swings, and for some, the
decision between being permanently infertile or not. Most of these
victims are mothers, their vital role in the household overlooked
until they fall sick with cancer. Yet, looking beyond their constant
due to chemotherapy side effects, these women got up every morning
and kept on going with life as if nothing was going on. Funny thing
is, my biggest dilemma while volunteering wasn't the actual job,
but rather facing these women as they told their stories, knowing I
had a healthy body and still managed to complain about simple chores.
How could I whine about doing laundry when there are cancer patients
who do it without a second thought? At times, I even felt embarrassed
and ashamed with myself.

My
work at
the events also helped the relationship with my mother, I learned how
to support her fight without suffocating her with questions. Through
the different resources provided at the rallies, I was able to find
small, significant ways in which to show appreciation for my mother.
I eventually learned how to cook, standardly I may say, and started
cleaning the house, by doing this, I was taking away the workload
designated to my mom and giving her extra time to relax and recover.
Volunteering for the American Cancer Sociey taught me a lesson in
life that I always heard but I never understood, appreciate every
little thing in life because you never know when it could all be
over.