Name: Noah Jon Poupore
From: Carney, MI
Grade: 11th
School: Carney Nadeau High School
Votes: 0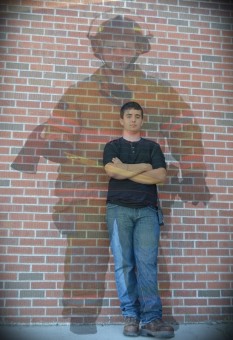 At the age of sixteen, I was studying and training to take my firefighter one course, so I could become a member of the department. I am proud to say I am now a volunteer fire fighter for the Nadeau Township Fire Department in Carney, MI. Being on the fire department is how I grew up. My dad and uncle have been on the department for twenty plus years and my dad is currently the fire chief.
For fire fighter one and two courses, I have devoted two hundred seventy hours. Now that I am on the department we train about three hours a month and do monthly truck inspections. Because I have my pager clipped to my pants twenty-four – seven, I guess you can say I volunteer all my time to the community.
My biggest challenge as a cadet was the first time the pager went off at 1 AM for a structure fire and trying to wake up and function quickly and smartly. There is some kind of good tingling rush feeling I get when I hear the noise of the pager. But this call was different than all the rest. This call was someone's home that was almost gone when we were called to the seen. With weather temperatures at twenty below and still very early in the morning, we completed the mission. But there is still a lot to do. Now the fire trucks need to be inspected and tanks filled to be ready for the next call. Even though all of this was very hard work, the biggest challenge to this call was finding out that someone was in the fire and we didn't save him. My heart was broken and I didn't know how to handle this. I had nightmares for days, but I had to believe that this was only one call. There are so many other calls that are positive and calls that the community needs me to be there.
The day that I got the most satisfaction was last week when I was at the local hair salon. I was waiting to get my hair cut and the older lady, getting her hair cut, found out that I was a volunteer fire fighter. When she was done, she said to me, "Young man…can I give you a hug?" and I said "sure". She said, "thank you young man". The warm feeling in my heart is exactly why I do what I do. The smile on her face says it all. This made me realize I do make a difference by volunteering my time.

I wouldn't have it any other way, I love being a part of the fire department family. In the future I wish to graduate from a nearby college and continue my roots at this wonderful small community. Being a volunteer fire fighter gives me so much pride and glory. I hope to maybe someday following in my dad's footsteps and maybe even become the fire chief or maybe even save someone's life.