Name: Makena Downing
From: Goodyear, Arizona
Grade: High School Senior
School: Grand Canyon University
Votes: 0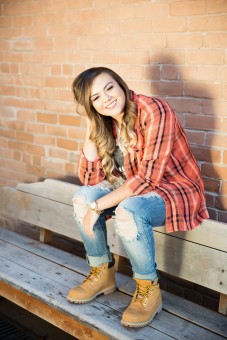 Proverbs
31:20 "She opens her hand to the poor and reaches out her hands to
the needy." In the summer of 2016, I had an incredible
opportunity to travel to Santa Ana, El Salvador with my church.
Imagine
yourself living in a place where poverty is greater than 50%, single
water resources are contaminated, spread of illness is on the rise
and facing the threat of gang violence every day. This describes, in
little detail, Santa Ana, El Salvador and this is where I spent 7
days volunteering.
When
I first arrived, I couldn't help but notice the tiny homes made of
scrap tin and dirt floors. Some of these homes, no bigger than 250
square feet. Then my attention turned to the children who cheerfully
sprinted with open arms, to the well-known missionary who brought us
there. I instantaneously sensed these children's longing for love.
Although there was a verbal communication barrier between us, we were
able to connect with one another through smiles and hugs.
It
was our mission to build at least four new homes for some of the
families living in this community. This wasn't an easy task. The
weather wasn't only hot, but at times the humidity was unbearable.
We didn't use nail guns, but old fashioned hammers and nails. We
didn't have fancy guides and tools. We built the homes with hard
work and heart. We completed our goal, and four families received the
blessing of a new home. I'm glad I was a part of something so
unique!


Many
take for granted the simple things in life such as, a home with a
toilet, fresh running water, and three meals a day. This experience
has definitely caused me to become
more "forward looking". I'll always try to look at the future
in a positive way and trying to think of ideas that will positively
impact others. This experienced has left me more content with life
but never willing to settle. The impact is forever changing.
I
want to help foster an environment of giving, giving of one's time.
Today we live in such a busy world we often value time more than
monetary possessions. If we give just a little bit of our time we can
be a big blessing to others.
I
often think about the people of El Salvador. If ever given this
opportunity to come back again, I will go! I was able to touch the
lives of so many families. For some, providing a better shelter, for
others providing food, and some just demonstrating love. If I come
back, I believe these families will still express their appreciation.
I believe some will make it a mission to help other families in need
because of the love expressed to them. The
gratitude these families displayed for a dwelling with only four
wooden walls and a wood floor, caused me to shift focus from what my
life lacks and caused to me realize the overabundance that is ever
present.