Name: Katherine E Sublette
From: Park City, Utah
Grade: katherine.sublette@hotmail.com
School: katherine.sublette@hotmail.com
Votes: 0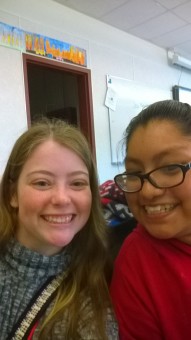 Friends First
Two years ago, I began going to the local high school part-time.
Officially I was homeschooled but I'd always had a passion for art
and was eager to take one of my first real classes. On my first day,
I sat down next to a Hispanic girl around my age. She had cerebral
palsy and was struggling to follow along with the class, so, I
introduced myself and began subtly helping her out in an effort to
not embarrass her. Her name was Karen and we became good friends.
Later it transpired that the school implemented a system where other
students could volunteer to help with the Special Ed kids, they were
called peer tutors. Unfortunately, they were grossly understaffed as
it was difficult to entice other kids to volunteer for such a
position.
So, I stepped up. I've been peer tutoring Karen for the last two
years which means I hang out with her for an hour and a half every
other day. On the surface, it isn't hard work. I hand Karen things
she can't reach or steady her hand when she's having trouble. But
to me it's always been about being her friend and treating Karen as
if she's an intelligent, funny and amazing person, which she is.
I got the sense that not many people have treated Karen in such a
way, not that they're intentionally mean of course just that it's
difficult for them to look past her disability. So, I have begun to
gently push Karen outside of her comfort zone, to improve her
confidence and show her that she can do so much more than she thinks
she can. It's been the most challenging thing I've ever done in
my life. Karen was subconscious about going anywhere other than her
house or school so I began by taking her to the movies and shops.
When school ended, I came to her house once a week, hung out and
taught her how to play checkers. Even miniscule things, like
convincing her to submit her artwork to a school drawing contest made
her grin with joy. Getting her to smile, to believe in herself, are
the most satisfying moments I have ever experienced.
Everyone always
seems to ask, 'what have you learned' when it comes to
volunteering positions. To me volunteering, in its essence, isn't
about me. It's about giving up something so that others can gain so
much more be it money or clothes or time. So, to me it's about what
Karen learned. Will she come out of this friendship happier and more
confident than she was? Will she learn that her self-confidence is
hers and hers alone? I hope so. I hope that she'll be happy. I hope
she'll be able to go out of her house without feeling
self-conscious. I hope that in ten, twenty or even thirty years Karen
will look back on me, first and foremost as friend and then as a
volunteer.