Name: Callia Anastasia Cox
From: Marrero, LA
Grade: 11th
School: Academy of Our Lady
Votes: 0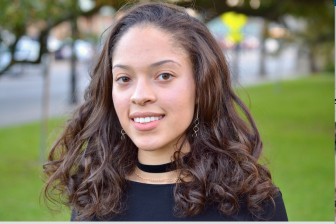 Fortunately,
I have been invested in community service from a young age because of
opportunities at school, church, and the encouragement of my parents.
My first encounter with a service project was when I was ten years
old and spent the morning at a local
soup kitchen preparing and serving the sheltered and homeless.
Initially, for a ten year old, the atmosphere was very uncomfortable,
but the longer I stayed I came to the realization that my presence
was making someone else happy and improving their day. My job at the
soup kitchen was handing out fruit and I was not very enthusiastic
about distributing the fruit. My first service experience nourished
me to become a charitable global citizen.
Since
then I have taken part in over 500 hours in service activities
including over 50 hours at Ronald McDonald House Charity preparing
snack bags and meals with friends. Service has helped me find my
passion and future profession as a nutritionist because I've
volunteered with Medical University of South Carolina Heart Health
program since eighth grade by writing newsletters, conducting
informational presentations, and camp counseling.

I have tried to keep health the theme of my service projects. I use
service as an introduction and tool for exploring the nutrition
world, and after years of volunteerism, I have decided to be a
dietitian. I hope to expand my service opportunities with the goal to
help lower the outrageous, preventable overweight and obesity rate. I
want to focus on creating healthy lifestyles and incorporating
nutrition and exercise for less fortunate children and families. In
my opinion, "looking forward" is assessing how your decisions
will positively improve yourself, the world, and others. From my
experiences, I have learned the best way to promote health to
children is through the family unit, so Ronald McDonald House Charity
was a great organization to volunteer for. My mom was the first
person to introduce me to RMHC as a service project for my local
court of the Knights of Peter Claver. I didn't know much about the
charity other than it was a place for families to live and seek
assistance while their children are fighting long-term illnesses. I
believe one of the best ways to get through difficult times while
away from home is to feel comfort from others. As young ladies I knew
the best way we could offer our assistance was through cooking
nutritious hot meals for the families. It was very rewarding to see
how the families appreciated our hard work because the meal prep was
most difficult. The residents usually have busy schedules between the
hospital and doctor's offices, so having healthy options lovingly
prepared is one less responsibility parents have to worry about.
Therefore, I hope my service over the years has positively impacted
others and in the future I aspire for all of us to give of ourselves.
I believe blessing others improves our character and tolerance for
those less fortunate and allows one to be more gracious.