Name: Hector Sapien Jr Tejeda
From: San Jose, California
Grade: 11th
School: Apollo High School
Votes: 0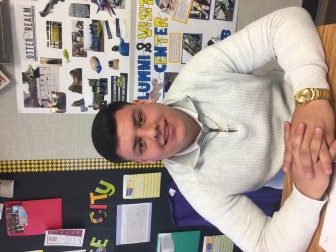 Get
and Give
Community
for me is more like family. I have grown up on the east side of San
Jose, the ghetto side of San Jose like most people say. I consider
most my neighbors like family, because each and everyone of us makes
the community. I went to the Boys and Girls club of Silicon Valley
since Elementary school. To be able to give back to the place that
made me the person I am today feels great. To help someone on the
east side is impacting so much, because most kids need help on
pursuing success.

I
visited the Boys and Girls club every other day during the week for
about a year. I helped as a Jr. Staff and ran games with the kids,
but also helped them with homework like adding and subtracting. I
also teach them how they can change their self-image by drinking
water and not eating 'junk food.' The biggest challenge for me
would have to be dealing with the little kids. I forgot how much they
talk and never get tired. These kids can run all day, they have so
much energy as if they had just drank 5 Red Bulls.
The
reason why I chose to give back is because there's always space for
improvement. As a kid I always looked up to the staff because I
wanted to be as good as them at soccer or cool as them. So for me to
go back and help the kids I felt as if I was guiding them towards
success by always giving them lectures and putting work before games
or sports. What I have learned from helping kids is that they
appreciate it even if you think they don't. They will grow and always
carry that in there head to succeed.
I
was satisfied to see the smile on most kids faces. You don't know
what types of life these kids live at home so to at least to put a
smile on their face for even an hour makes my day. I feel like this
scholarship would be perfect cause it would help cover the cost of my
books. Although $500 is not so much, its enough for me to not worry
about my books. The reason why I feel I should win is because I
helped people believe in himself and that there's a way to make it
out. Even when everyone will doubt you and say other things, you know
that you can do it. A lot of these kids are raised single parents,
and or poor. The east side kids don't have the same life as a kid in
Los Gatos, but that does not mean that we can make it as far as them
if not farther. These kids and our community deserve the name we
want. We are proud to be from the eastside, and we are no different
than others. We are just as much. Thank you for accepting my
scholarship and I hope to win.