Name: Tyrell Luis Aponte
From: Peoria, Arizona
Grade: 11th
School: Peoria High School
Votes: 0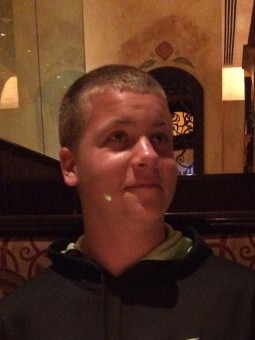 Community
Service
Over
the course of my high-school career, I have had the opportunity to be
a part of a non-profit organization called Team M'Phasis. Together
with the team of exceptional individuals, I have volunteered over 100
hours on a variety of projects. All of our projects were in support
of our local community. Through community services I have learned the
most powerful lesson of giving of your time in selfless acts to
improve the lives of others. I have been fortunate along the way to
build positive relationships and better the community in which I
live.
Projects
included but were not limited to:
Renovation/Revitalization
in Old Town Peoria- I painted many walls, completed yard work and
picked up trash through targeted areas.

Planter
Boxes in Peoria Gardens – I participated in building what became
the Peoria Gardens by building planter boxes, shoveling dirt,
planting a variety of plants.

Goodwill's
Produce on Wheels – I unloaded crates of produce from big food
trucks, set it up in an orderly fashion on tables, and distributed
to needy families.
Through
community service projects, I have learned many skills including
teamwork, service, communication, organization, and related skills to
the project (i.e. gardening, painting). Working together to serve
others brought us closer together and gave us pride in our community
and our work.
Providing community service as a
teenager has increased my sense of social responsibility. After we
had spent many hours cleaning up the local neighborhood, I noticed
that I was much more conscious of myself and others with trash,
recycling and cleaning up. I remember seeing one of my buddies throw
down a gum wrapper and I felt compelled to tell him about using the
trash and keeping the neighborhood clean and the hard work that went
into cleaning up.
I
have also gained a heart for "giving back" to others. Through
community service, I was able to see the smiles and gratitude in
others when they see the results of your service. When we were
distributing the produce, many comments of thank you and this will
help out greatly makes me feel good that I was helping out the
greater good. Helping out others in need also made me more of the
things that I have been blessed with, not just material items but my
health and abilities.
Outside
of Team M'Phasis, I take pride in donating my time and health to
donate blood for United Blood Services. I feel that this is a service
to a greater community in which I can volunteer and feel blessed that
I am healthy and can help others in need.
Ultimately
through community service, I have found a strength in myself to
provide service to others. After high school, I will be pursuing a
degree in nursing at the University of Arizona and will continue to
give back to the community that I live and other causes where I see
that there is a need that can benefit through my services.

I do feel strongly that
volunteering makes a difference for a lifetime, not only for the
person providing the service but to the many lives that are touched
along the way. You may have a profound impact without even knowing. I
can only hope that the many community service hours that I have
volunteered over the years has multiplied in the minutes of affecting
others in a positive way.