Name: Hanna Camille Atasi
From: Houston, Texas
Grade: 12th
School: MB Lamar Senior High School
Votes: 0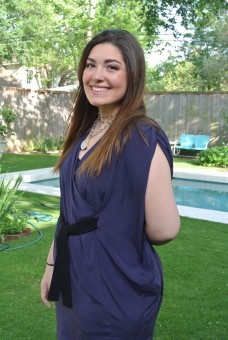 As
I write this, I have a worm in my foot. My right foot, middle toe to
be exact. The worm, which I named Clarice, is my souvenir from an
unforgettable and life-changing two months of volunteer work with
underprivileged children in Paraguay during the summer of 2016.
It
all began when I decided to join Amigos de Las Americas, an
organization which offers volunteer abroad programs in Latin America
for high school students. Perhaps one of the most difficult tasks was
convincing my parents to send me to a third world country to live in
a poor community with a host family they had never met. I worked many
babysitting jobs and contributed $1,000 of my own money towards the
cost of the trip to show them how serious I was about this
opportunity.
Before
I knew it, I was on my way to Colonia Independencia in Guairá,
Paraguay, a small, poor rural community that relies primarily on
sugar cane crops. My assignment included working with the children in
school every day. The school had about 150 students. I taught the
children about hygiene: brushing teeth, washing hands, and showering.
I also taught them about the importance of studying and education. In
between the lessons we had some fun: dancing, arts and crafts
projects, and storytelling.

In
addition to the "campamentos" (camps), I spearheaded a community
project, and involved the children in the project. I met with the
community leaders, and they asked for a concrete patio on the dirt
playground at the school. I found a local construction contractor and
negotiated a price for the patio. While I was not allowed to actually
lay the concrete, I supervised the project on a daily basis to make
sure the contractor stayed on task.
I
also worked in the fields with my host mother, planting onions and
peeling sugar cane, which were perhaps two of the most difficult
things I have done. This is, by the way, where my worm Clarice found
her home in my toe.
Initially
the biggest challenge was transitioning into a third world culture
that was so different from my own everyday life. I found that I was
able to quickly adapt to the fairly primitive lifestyle. My greatest
satisfaction came from seeing the children's eyes light up with joy
when I included them in the day-to-day community project, whether it
be designing the patio, pricing the project or overseeing the
day-to-day progress. My work was "forward looking" because it
exposed the children to leadership roles and teamwork. The kids loved
being in charge and contributing to their school and community.
Hopefully they will carry those skills throughout their lives.
I
am returning to my community in Paraguay this summer on my own, and
plan to continue my work with the children, and to take on another
community project. In college, I plan to study architecture and hope
to someday build a bigger school for the community.