Name: Joseph Knoblauch
From: Ashland, Wisconsin
Grade: High School Senior (graduated 2016)
School: Northland College
Votes: 0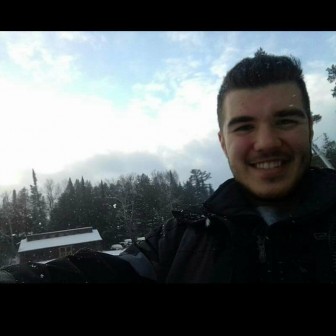 There
are countless reasons to give towards a cause that is bigger than
ourselves, while there are none for why we should not.
AmeriCorps NCCC is a government
funded volunteer service program for young adults, which focuses on
Environmental Stewardship and Conservation, Infrastructure
Improvement, Urban and Rural Development, and Energy Conservation.
Its top priority is Disaster Relief.
Straight out of High School I signed up. As a Corps
Member with the program, you give away control of your life for ten
months, forsaking all say as to where in America you will be, who you
will be with, or what you will be doing. During those ten months we
had a single ten-day break where we could go home. My team worked
with the US Forest Service to maintain/clean our National Forests, we
became trained and certified as a Wildland Firefighters, built homes
alongside Habitat for Humanity and built mountain bike trails for the
city of Norton, VA. We worked with the Virginia Housing Alliance in
Gloucester VA, manning homeless shelters. Hiked nine miles a day
through the Red River Gorge of Kentucky to pack out litter and
dismantle illegal campsites. However, in the end my team and I
unanimously decided that the best work we had done was to participate
in the Disaster Relief efforts.
I volunteered for roughly 1,800 hours within
my service year. During that time, I responded to two national
disasters, the Gatlinburg Wildfires in Tennessee, and the southern
Floods of Louisiana and Mississippi. The stress was my greatest
challenge, especially in Tennessee. Away from family and friends, I
worked at a Volunteer Registration Center where we registered over
eight-thousand volunteers for the relief efforts, were working
fourteen-hour days on inadequate nutrition and lacking availability
for proper exercise. When based at a Donation Distribution Center
formerly manned by the National Guard, some responsibilities of
myself and coworkers included organizing citizen volunteers and
preparing supplies to be shipped out. While in Louisiana and
Mississippi, Flood Work included mucking/gutting the homes of flood
victims, debris removal and supply/donation distribution.
It was
incredibly stressful work. But it was also the most rewarding work I
have ever done in my life, for the fact that we were face to face
with those we were helping. We could talk to them, hear their
stories, physically see the difference we strived to make.
While in this position I learned
that while some may think, "What difference could I possibly
make?", just the willingness to give your time is enough to make
all the difference in the world. Forward Looking is a phrase that
represents care for the future. When disaster victims look back on
difficult times they will not remember me, but they will remember the
fact that people wanted nothing more than to help them.
The world we live in is not a democracy in which
everyone has a say, but every time we volunteer, we are making a
statement about what kind of world we want to live in.