Name: Gillian Claire O'Grady
From: Sterling Heights, Michigan
Grade: 11th Grade
School: Sterling Heights High School
Votes: 266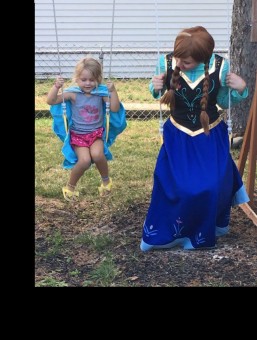 Multiple programs have been in dire need of assistance. I have done everything
I can to assist them all. I have participated in multiple volunteer
groups from children with special needs to adults looking for pets.
My proudest accomplishment in volunteer work is a small group my
sister and I created ourselves, Project Princess and the effect it
had on Princess Ember.
Project Princess was dubbed this title a few years ago when the family of a little girl
named Lexi reached out to my sister and me.
My sister and I are avid cosplayers; in love with Disney it was only
natural we had a Princess Anna and Elsa cosplay in our collection. A
little girl named Lexi was diagnosed in the womb with Stage Four Brain Cancer.
She was given a short life sentence and was living on borrowed time.
Her mother expressed Lexi's love for Frozen and asked if Anna and
Elsa would be interested in visiting Lexi for her, what we would
later find out to be, last birthday. My sister and I eagerly
accepted. Lexi was not what I expected to be. Energetic and shy Lexi
did not fit my prototype of a cancer patient, and this hit me hard.
She was just a child and acted very much like one.
Spending the entire afternoon with her was a blessing. Lexi showed us her
entire collection of Princess toys and insisted we go on her new swing set.
It was a few months after that day that we heard news of Lexi's passing.
At only four years old it was hard to understand how she grew so ill
in so short of time. Only a month ago we were swinging together in
her backyard.
Now enter Princess Ember. Our school donated to the Princess Ember
Foundation two years in a row raising over forty-thousand-dollars for
the two-year-old diagnosed with B -ALL Leukemia. I noticed Ember's
own passion for Disney and an idea struck me.
The Princess Project was meant to be a one-time-thing, but seeing the
joy, that Disney Princess were able to provide children brought a
sense of duty to my heart. I immediately reached out to Ember's
mother and asked if she was interested in the Princess Project.
Later, we would visit Ember again a year later for her birthday where
her near-remission was announced.
It is hard doing these visits. Little girls who have traded Girl Scouts
for Chemo. It is hard seeing children with swollen cheeks from brain
tumors. It is even harder to hear the child you visited not a month
ago has passed away. But I've learned sometimes volunteering isn't
about helping fix the problem, but rather ease the suffering. It
isn't about stopping the pain, but distracting a child from it. It
isn't about you, but them. It may not eliminate the problem, but it
can bring a smile to a dying child's face for just a day.