Name: Juan Magalhaes
From: Carpinteria / Brunswick, CA / ME
Grade: High School Senior
School: Cate School HS and Bowdoin College class of 2021
Votes: 0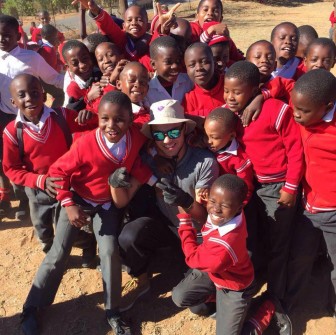 Juan
Magalhaes
Cate
School
2017
Grateful
Resilience has been a trait that I have honed since I was a little kid and has shaped who I am today. I grew up in a small family, in a poor neighborhood in Brazil. I never had money, but I always had the passion for soccer and learning. Through hard work and eagerness for learning I was blessed with a full scholarship at the Cate School CA, where I discovered my biggest passion… Community Service. Through Community Service I discovered a way to give back, and help those who, like myself, have been oppressed by society. I became the Head of Public Service at Cate and I've received Leadership and Service awards to visit Costa Rica, Mexico Fiji, South Africa, and Nicaragua where I was able to help to run camps for low income kids, build classrooms and water systems, teach English, run soccer clinics and learn from different kinds of people. These service experiences taught me that the pursuit of happiness is only attainable if I help others to achieve happiness first. In addition, it also strengthened my belief that everybody is entitled to chase his/her dreams and acquire as much knowledge as possible.
I'm currently applying for a grant to build a kitchen at the Lwaleng Primary School in South Africa. As the parents don't pay monthly school fees, the school does not have enough money to cover all the running expenses for its 800 students. Therefore, with a growing number of learners in the school, they really need a fully functional kitchen. Currently, the preparation of the food happens in very unhygienic circumstances ­– there are no store rooms, the current kitchen is a shelter with a low wall around it, when it's raining they struggle to get the fire ready for cooking and the dusty conditions also affect the hygiene of the cooking area. Therefore, I plan on going to South Africa this summer, build the kitchen that they truly deserve and create a garden that will supplement the feeding system.

            I've been blessed with great opportunities throughout my life and I promised myself that I'd do whatever I could to help others. I
strongly believe that there's nothing like the feeling of making the lives of others better, and I'm extremely blessed to have had the opportunity to be in both positions ­– to be the one being helped by others, when I was living in the slums of Brazil, and now to be the one helping others. Looking towards the future, I plan on majoring in Economics, with a minor in IR, and I also plan on creating my own nonprofit. However, I am also aware that opportunity is only one factor among myriad of others that also play a role in our societies' dilemmas. Indeed, I want to achieve better academic and professional positions, but as I reach those lofty positions, I aspire to look around and realize that my people have come with me.