Name: Matinah Cesar
From: Baldwin , NY
Grade: 11
School: Baldwin Senior High School
Votes: 0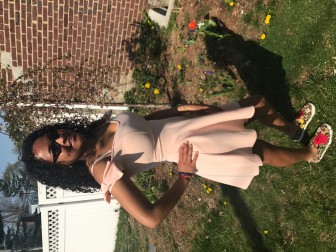 personally enjoy
volunteering! As one of Baldwin's volunteer Junior Firefighters
with the most hours, I was selected to participate in the very first
Nassau County Juniors Firefighter
Association Camp
Fahrenheit 516 in the summer of 2015. The camp was the very first
time and place Nassau County junior firefighters were given the
opportunity to face a live fire. As the nozzleman, I led the flow of
the water onto the fire. With encouraging words, I kept my backup men
ready to support the heavy pressure of the hose. "It takes a
special person to run towards a fire while others are running away
from it," was often stated. At the camp, I made lots of friends
from lending a hand with the gear as well as bringing smiles and
laughter to those that yearned to quit right after the second day. At
the firehouse we not only train, we help out at local community
events such as serving food at picnics. Every year, we march parades,
especially our local community Memorial Day Parade in Baldwin. Last
but not least, we teach the public, especially the younger children
about fire safety. Kids get excited to "stop, drop, and roll!" as
well as listen and speak with Sparky the Fire Dog. Happy kids warm my
heart and being seen as a positive role model is a privilege I seldom
take for granted.
My favorite
volunteer activity is Junior Achievement High School Heroes. As an
active member of Future Business Leaders of America club in high
school, I've had the opportunity to go to Meadow Elementary and
Steele Elementary School twice a year to act as teachers for a day. I
team up with a peer and we spend eight hours teaching a class about
financial literacy through 5-6 interactive lessons.
I look forward to
continuing my love for volunteerism in college!