Name: Amanda Androus
From: West Hills, CA
Grade: 9th, 2016-2017: 10th
School: Chaminade College Preperatory
Votes: 136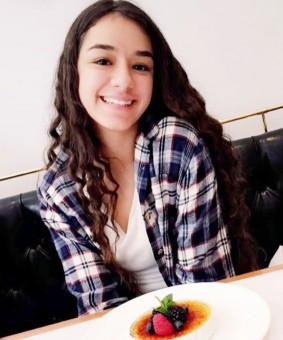 Volunteerism is defined as the practice of volunteering one's time or talents
for charitable, educational, or other worthwhile activities. I have
been fortunate to experience the rewards of service in my life by
volunteering with the poor and the sick. That is why I want to write
about the impact that these experience have had on me as a youth in
this community.
I would first like to reflect on my experience with hospital
volunteering. My passion for medicine is what drives the
volunteering. I spend 4 hours a week volunteering during the school
year, and about 8-12 hours during the summer. Unfortunately, I am not
able to dedicate as much time during the school year as I would like,
due to my commitments with academics and sports. As a hospital
volunteer I typically discharge or escort patients and deliver
specimens to the lab.
My biggest challenge as a volunteer is balancing school work with the
time that I dedicate for work at the hospital. This year, I decided to take four honors courses at
school, and it was difficult to balance my time, but thankfully, I
was able to do so. My position in the hospital has taught me to be
unceasingly thankful for whatever my current situation is and to
understand that all life is a blessing.

Next, I would like to write about my life-changing work with the poor.
There is nothing that fills my heart with more compassion than serving
those who are less fortunate than I. When going to do service with
people living in poverty, a common misconception is that we will be
making an impact on the lives of those we are serving. However, these
people often end up making a much greater impact on our lives. They
teach us valuable lessons about compassion, sacrifice, and the truths
of service. November 28th of 2015 was a remarkably changing day for me as I ventured on a bus
to Tijuana, Mexico with the charity, Corazon de Vida to spend eight
hours at a local orphanage. The minute I entered the orphanage, my
heart was filled with an immense feeling of compassion and love for
every individual child that was before me. I am very excited to be
returning to Tijuana with Corazon de Vida this July to spend another
day serving these children.
The last service opportunity I would like to discuss is a project started
by my church called, "The Lazarus Project." Every Tuesday for two
hours, youth from my church make meals and set up tables for any
homeless people in the area to interact and eat with each other. This
project has proven to me that there is always hope, despite how
desperate anything may seem.
I find this scholarship to be named so fittingly as the "Youth Forward
Scholarship" because my services have propelled me forward as a
young adult. These experiences in volunteering have helped me
understand more about myself, humanity, and what it truly means to
serve others.