Name: Ramius Stiehler
From: seminole, Florida
Grade: 12
School: Dixie M. Hollins
Votes: 0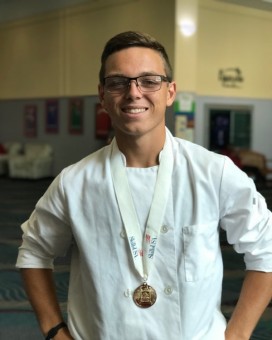 I
believe that one's community service should not be held to one
focus, but multitude of fronts. I have volunteered in feeding the
homeless, youth entertainment programs at libraries, an assortment of
projects with boy scouting, and sports team's community service
projects. I chose these areas because of my passion for reading and
sports alike. Since I was a child I have read all kinds of books and
I found that books service as an escape from reality as well as a
medium of knowledge. Furthermore sports teach players important
values such as teamwork and determination, and I hope by teaching
sports to kids help spread these values to the youth. My time
attributed to volunteering varies throughout the year. As a dedicated
student I find myself hard pressed to find time during the school
year to volunteer but I do find events such as blood drives to pick
up a few hours with National honor society. Over the summer I do the
bulk of my volunteering. The last two summers I have volunteered as a
staff member at Boy scouts day camps teaching campers how to do
archery, also as an eagle scout I hope to inspire the kids to
continue scouting. I also assist a local food pantry at Aldersgate
Methodist church by stacking shelves and moving the heavy loads. As a
volunteer my responsibilities included teaching kids the game of
soccer, and setting up and putting on puppet shows or movies at
Seminole public library. With my soccer team every week we teach
young children how to play as well as doing several dinners for the
less fortunate. I found that my biggest challenge as a volunteer was
to keep kids focused and engaged while also having fun. It's a hard
mix to actually teach them something while also allowing them to have
a great time with some laughs. I feel that I have finally understood
the struggle teachers face every day in schools. The biggest
satisfaction I have gotten from volunteering was during one of my
soccer team community service projects and seeing the smiles on the
faces of children with troubled families. I have never felt better
than the time a young boy came up to me and thanked me for playing
soccer with him and said he had a great time playing with me and
hoped that id come back to play with him some time. I have learned
from my volunteer position that the best way to bring energy and
motivation to a group of kids and volunteers alike is to be energized
and excited yourself. By diving into the work yourself you inspire
others to do so too. All I can ask for is that my activities in
volunteering have brought happiness to those I have strived to help.
I wish to give them fond happy memories so that when they are older
they give back to their community as well. I therefore see my
activities as forward looking because I hope to inspire the next
generation those I volunteer for to volunteer themselves when they
grow up.