Name: Iyana Botts
From: Richmond, Virginia
Grade: 11th
School: JR Tucker High School
Votes: 0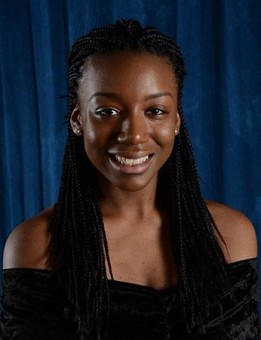 Throughout
my high school career, I've acquired over 300 hours of community
service. Most of these hours came from volunteering over the summer
at an independent living facility with a few of my friends that I'd
made as the summers went on. While most of my peers were out learning
how to drive, making money, or on vacation, I decided to dedicate and
rededicate my time to the older adults and children I'd met at
Westminster Canterbury. One thing I learned was that people truly
appreciate small gestures. Doing community service didn't always
mean serving breakfast, filing papers, and transporting patients in
wheelchairs to and from appointments. Community service also entailed
having conversations with elderly adults who didn't have families
that would visit them. Community service was listening to stories
told about the 1950s and 60s by Alzheimer's patients who believed
they were back in their golden years. Community service was playing
with young children and inspiring laughter and joy in them. I learned
through my efforts there and elsewhere that giving back to the
community meant being an active member in one's immediate
surroundings, and connecting with the people around them. The biggest
challenge I had with doing community service was the lack of time I
had outside of it to hang out with my friends or "enjoy" my
summer vacation in a leisurely way. I woke up around 8am in the
morning and returned how at 5:30pm three days out of the week. Most
of my time was spent at Westminster Canterbury, but as I made friends
with the residents, employees, children, and my fellow volunteers, I
quickly learned that doing community service could be enjoyable. As
stated previously, feeling like a true member of my community was an
honor in itself, and something I wouldn't trade for the world.

In
the future, I see myself giving back in other ways. After high
school, I plan to go to Howard University in Washington, D.C. As a
member of the D.C. community, one of my plans is to tutor and spend
time with the children in the D.C. public school system. I see this
as "looking forward" because I'll be investing time into the
people of the future – children. I plan to take what I learned from
working with mature adults and bestow that onto the next generation.
In the future, when I look back on the work I've done, I know that
I will be able to see significant results from my volunteerism.
Having dedicated so much time to community service, I know from
experience that it doesn't take much to influence others to make
positive changes; and once you influence one person and they go out
and spread the same message, there's no telling what kind of
positivity and growth will come from it.