Name: Larry Santos
From: aransas pass, Tx
Grade: Junior
School: gregory portland high school
Votes: 104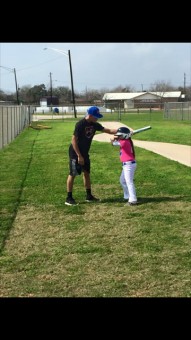 Helping the Youth achieve
their dreams
I have chosen to volunteer in helping youth sport programs. I chose
because I love to work with children and it is a great feeling to
help a young child to know more about what sport they love to play. I
also chose to do this because it's easy for me to able to help
these children especially since I know hands on how it feels to be in
their situation. For each camp I volunteer six hours a day and I had
participated in seven camps in one year. My responsibilities could
range from teaching the basics of the sport to teaching the children
how to work as a team and how to work hard with maximum effort. My
biggest challenge is getting all of the kids to work as a team. I get
the most satisfaction from seeing how much I have helped these
children and hearing children tell me how much they love the sport
reminds me of how I used to be that age and have the same dreams. I
have learned that kids are willing to learn as long as you put in as
much effort as you can.
I could see my volunteerism as forward looking because forward looking
to me means you are trying to find out exactly what you want to do
when you grow up and also prepares you for different situations. I do
plan to make a difference in kids' lives whenever I volunteer by
trying to keep them playing the sport they love to play and to never
let anyone discourage you from your dream. I would love to believe
that my actions would help kids be great enough that they could reach
their dreams of playing under the lights. I would hope that my
inspiration will give them the drive to never quit and become the
best they can be.