Name: Lucas Addison Lovejoy
From: Los Angeles, California
Grade: Junior
School: Maranatha High School
Votes: 0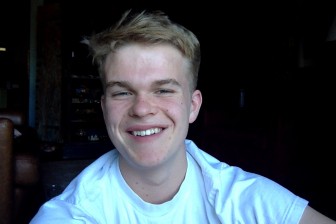 Driver's
Scholarship
I
have chosen to explore the world of Homelessness through my service.
I chose homelessness because each time I pass someone considered a
"bum"
or "outcast"
by society, I wonder who they
truly are, what their aspirations were as children, and where those
who love them are. I live In Echo Park, an area near Dodger Stadium
and Downtown Los Angeles and I see homeless people every single day.
Each day I question what I can do to help those homeless feel loved
once again

I have volunteered in organized groups such as the Echo Park Homeless
Count, the LA Mission, a local Nightclub "Los
Globos" and
R.H.I.N.O (Rebuilding homes in New Orleans), and my church's
local food bank. RHINO was a multiple week trip in which 10 friends
and I went to the 9th ward of New Orleans to help the newly homeless
and those who are still without home since Hurricane Katrina. I have
been to the LA Mission to serve meals on Thanksgiving and at the
nightclub served Christmas breakfast and handed out gifts to those
without homes. The Homeless Count is simply a count of homeless
people that takes place at one night in each year and it is a census
to gather information and aware of the widespread issue called
homelessness. I would estimate having worked between 200-300 hours on
this issue.
I
plan to continue to work towards the solution of homelessness as I
study in College and in my profession. I plan to launch a fashion
line that provides high fashion to its consumers, while going out
into the community and handing out garments for each item purchased.
This is a grassroots simple solution similar to the Tom's
approach that provides a small service to those in need. I seek to
foster change in homeless communities as I create healthy communities
for them in which they can explore themselves and their abilities
while still being in their "safe
place".
I
believe that what I have done has made a difference, and when I look
back on my life, I will see that influence grow. I have learned many
things through volunteer work- how to give, serve, and most
importantly put others before myself. Seeing the selfless way in
which homeless people can share reminds me that I have so much more
than I need, and allows me to give more generously to others.