Name: Zoe Lacey
From: Austin , Tx
Grade: Senior
School: Westwood Highschool
Votes: 0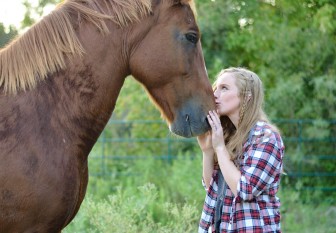 Horses
Helping People
Our
introduction was minimal at best, the more his mother silently urged
him into the conversation the harder he pushed to retreat behind his
sister. I learned his name, Noah, and his age; neither of which came
from him. While his sister made more than ample conversation with her
volunteer in the stall next to us, Noah and I communicated through my
questions and at best his monosyllabic answers. I knew he was part of
our at-risk-youth program, which means our first goal was to get him
talking and comfortable with the horses.We began learning to groom
his horse. I quickly found obstacle #1: Getting him to speak as he
walked behind his horse. While it was a good step towards getting a
few words out of him it was mostly enforced for safety reasons.
Despite my instruction he continued to walk behind the horse
silently. I decided to make a deal with him, I would also talk as he
walked behind the horse, masking his voice, as long as he still said
something. It worked. I can't say that by the end of the lesson he
was talkative or would even make small conversation but he would
occasionally make an effort to say something to me. After the lesson
one of the instructors approached me and informed me that "today's
lesson was the most I've ever heard him talk, and even if I ask him
to do something, he looks to you for the okay. You've got a real
talent for working with these kids."

Healing
with Horses Ranch is a ranch dedicated to therapeutic riding. With a
herd of 14 horses and one donkey we have many different programs
including a veterans program, at-risk youth program, and riding for
people with disabilities. My story above is one of many different
experiences I've had at the ranch, I work with kids from all walks of
life. I walked into volunteer training knowing next to nothing about
working with disabled kids or horses, and a year and half later was
named Youth Volunteer of the Year. I am a part of the feed team
(feeding and caring for the horses), the conditioning team (working
with and training the horses), and have 5 regular students (students
who I work with every week). I've gone to horse shows, including
the special olympics, with students and I've happily dedicated over
250 hours to the ranch. Volunteering out at the ranch has surpassed
an interest, it's a passion.I average around 7 hours a week, if I
have any free time there's a good chance I'll be out at the
ranch.The ranch's slogan is "where horses heal…body, mind, and
soul!" and I couldn't agree more. There's nothing like
witnessing a child walk into a pasture and have one of the horses
break away from the herd to come say hello, it's a moment of pure
bond between animal and human that in that moment cannot be broken,
and can begin a healing process for anyone who needs it. I've
attempted to match words to my passion about this ranch but words can
only begin to explain everything that this ranch means to me, it's
more than a volunteer opportunity,, it's a part of me.