Name: Faith Edano
From: San Jose, California
Grade: 11th
School: Ann Sobrato High School
Votes: 0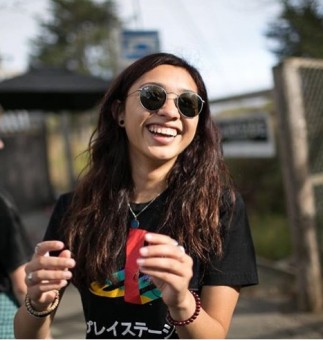 Faith Edano
April 21, 2017
Community
Service
For
a huge part of my community service hours, I did volunteer work at
The Village ran by Stand Up for Kids Silicon Valley. StandUp for Kids
is a non profit organization founded in 1990. Its mission is to stop
the cycle of homeless teens. The Village allows homeless teens within
the ages of 12-24. StandUp for Kids is ran by a majority of
volunteers only, and have made 18 outreach programs over the United
States. As for my helping hand there, I helped around The Village
serving food, gathering clean socks, folding donated clothes,talking
to the kids and more general picking up around the house.
During my time
helping out with these kids has actually taught me a lot. It has
totally opened my eyes to a different kind of world. I have become
more thankful for what I have and to appreciate the people in my
life. In the Village all the kids treat each other like family and
have eachothers backs. It is so amazing what a little act of kindness
can do to have such a huge impact on others. Being kind does not
cost anything. Watching these kids with a smile on their faces truly
showed me that friends and family really are so important. Having
people that are their for you in life is so much more precise than
having everything in the world.
This experience has
changed me as a person in a peculiar way. Growing up I have been
relatively a lazy kid when it came to doing my chores. My mother
would always tell me to do things and I would never get around to it.
Helping out around The Village doing chore like work, it has taught
me basic skills for everyday life. This really helps me out a lot
considering how lazy around the house I was. Though this has helped
me as a person, it has also helped me as a student. Seeing these
kids, it has really opened my eyes. This experience has made me
realize how important education is.