Name: Emily Ha
From: San Jose, California
Grade: Senior level
School: KIPP San Jose Collegiate
Votes: 0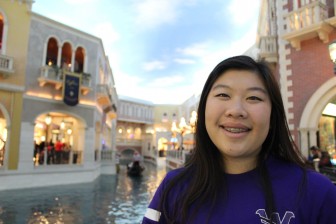 After graduating
Chinese school in eleventh grade, I signed up to volunteer and help
students like me learn Chinese. Chinese comes in many different
dialects, and the two main dialects taught at my local school are
Cantonese and Mandarin. These classes were split into two sections of
the school, and I learned Cantonese since it was the main language
spoken at home. Wanting more exposure on Mandarin, I signed up to be
a teacher's assistant for a kindergarten class.
Days before my
first day, I felt that this class would be easy since I have learned
some basic Mandarin in my Cantonese classes in the past. However, I
was come into shock when I walked into the class full of tiny
children who were speaking fluent Mandarin. As I approached the
teacher in front of the classroom to greet her, I planned my script
in Mandarin to avoid being embarrassed later. "Hi Ms.Wang, My name
is Emily Ha, and I am your teacher assistant," I spoke fluently in
Mandarin. The teacher greeted me back, and tasked me with handing out
stickers to the students who raised their hands to answer a question.
As I walked around and interacted with the kindergarteners, I was
surprised at how much chinese they managed to understand and speak.
One of my
biggest responsibilities as a volunteer was to interact with the
students as well as the parents, and answer the questions that they
have regarding the class. I found it a very big challenge because a
majority of the parents spoke Mandarin. However, I managed to
understand what they were asking and reply back, switching between
Chinese and English.
My volunteer
experience reflects my career goals in the future by giving me the
opportunity to communicate with people in different languages. I plan
to pursue my dream in the medical field as a doctor, as a doctor I
feel that I should have strong communication skills on a language
other than English. America is a country made up of immigrants, some
who have minimal to no understanding of English. I feel that it is a
necessity for me to tend to their needs, not only physically, but
also verbally as a doctor.
The change I
seek to foster in this world is the ability to keep foreign languages
in America. Most people often neglect wanting to speak their own
language because they feel that English is the only important
language in America. I want to help different languages in America
stay intact so that there can be more exposure of diverse cultures
around America. If I come back ten or twenty years later, I feel that
my volunteer opportunity has made an impact on the children that I
have interacted with. They would feel that there is an importance in
learning Chinese, and how much they are contributing to the world
just by speaking their own language.