Name: Tyler Gilley
From: Niceville, Florida
Grade: Senior
School: Niceville High School
Votes: 102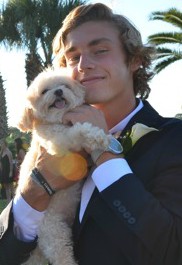 In
honor of MANY forced to FIGHT Alone. We'll DEFEAT Together
I am a student athlete and was presented with a lifetime opportunity.
This occasion quickly became a cornerstone, shaping my character into
one of a giver. Last year, I was invited to attend a National
Football Kicking event in Wisconsin. This event was also attended by
charitable foundations from around the country. To my knowledge, the
competition had nothing to do with anything other than football.
That is where my real story begins.
Upon arrival I noticed organizations speaking to young men about using
their talents to benefit others. Here I was in the middle of
Wisconsin having traveled from Florida to attend a football camp but
was immediately drawn to a charity called Kick-It Cancer. This
organization was no ordinary charity. Kick-It was founded by a ten
year old cancer patient who wanted to help other kids. Kickball was
his favorite and is an easy game that anyone can play. What grabbed
my attention was that 100% of proceeds are donated to children's
cancer research. WOW, 100%. That's an amazing number and it all
goes to research for a cure.

            After hearing how the Kick-It organization worked, I quickly jumped on
board with trying to find out how I could help. I was so energized
about how my input could provide for kids that had little or no hope.
I could use my kicking talents to organize a campaign for collecting
money while playing in High School football games. Being a kicker, I
had many opportunities to score and was looking forward to making as
many as possible. I quickly set up a website and invested many hours
asking my family and friends for donations. Some made one time
donations and others pledged a certain amount per point. Needless to
say, I had a tremendous year and so did our team. Each time I stood
on the field waiting to kick, I would point up as a reminder that
this opportunity was for a bigger cause. My effort was quickly
noticed and supported by local radio and newspapers. There was even
talk on other high schools campuses using me as an example about how
to step up and be givers. I'd have to say, hearing the news that
other coaches were using me and my effort as an example was extremely
satisfying. I was fortunately able to collect nearly $3,000.00 in
my first year and am still actively involved today. My campaign
slogan is, In honor of MANY forced to FIGHT Alone. We'll DEFEAT
Together.
As
I move forward in life and try to remain active in my giving, I can't
help remembering how this wonderful opportunity all started. I was
looking to use my kicking talents to better myself as an athlete but
fate had a dual purpose. Not only were my talents being used to
propel me forward in life, their ultimate purpose was for me to
perform as a Kick-It Champion for children's cancer.