Name: Jaimes Caeli Jeanne Massey
From: Athens, WV
Grade: High School Senior
School: Homeschooled
Votes: 0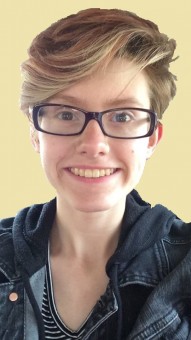 For the past few years, I've had the
privilege of volunteering with the One Voice Project. We travel to
schools along the East Coast, playing music and spreading an
anti-bullying message. The band I'm in, The Change, is also a part of
an anti-bullying organization called Free2Luv. Through Free2Luv,
we've logged enough volunteer hours to each receive a Presidential
Service award! Leading up to tours, all of the artists have 3-4 hours
long practices as a group at least once a week. My band has an extra
2 1/2 hour practice weekly on top of that. Each artist attends 30
minute or 1 hour music lessons once a week too, where we learn the
songs we'll be performing on the next tour. The tours themselves are
only about a week long, but a lot of work hours go into those – we
sometimes play 3 shows in one day!
While on tour, the artists don't just
play music. We all help load and set up the sound equipment, and tear
it back down when a show is over. We dance and talk with students,
and some artists give speeches about their personal experiences with
bullying. Surprisingly, one of the hardest parts of tours for me is
talking to students; I just play guitar, so going out into the crowd
and connecting with people that way isn't something I'm very
experienced with. One Voice tours teach every member a lot about
teamwork, and give us useful experience in performing and using sound
equipment. I tell a lot of people I think I learn more from our tours
than the audiences do, because often the artists' speeches cover
topics I need to hear too. They talk a lot about love, acceptance,
and embracing who you are. My favorite thing about the tours is
seeing how it affects our audience. I've had several students come up
to me afterwards crying, because they've struggled with something we
discussed in our show. A lot of them give us hugs and thank us for
coming to their school. We've had students message us a day or two
after our performance at their school, telling us that everybody at
their school is being a lot nicer now! It's really inspiring what one
group of teenagers can do!
Moving forward, I would like to continue
promoting love and kindness wherever I go. As I head to college, my
days on the tour may be over, but I can still carry the One Voice
message with me. In my career I hope to spread this message in even
larger ways. The change I hope we've helped make with the One Voice
Project is to inspire young kids to be as kind as possible. The
younger people are when they start spreading kindness, the more
kindness they'll spread in the long run! I'd like to think if I
looked back in a decade or two, my volunteering made a difference to
someone somehow. Hopefully our message stuck with at least a few
students, and resulted in a little more love in the world.