Name: Lauren Kristine Beich
From: Moses Lake, WA
Grade: 11th, 12th in 2016-17
School: Moses Lake High School
Votes: 0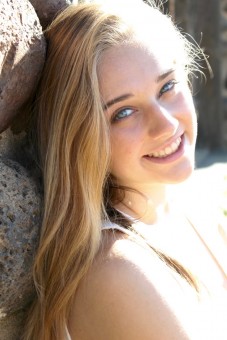 Inspiring
the Leaders of Tomorrow
One
day on the ride home, my dad said that a student of his had told him
about an opportunity to join a Girl Scout Lego Robotics team. The
opportunity came from Monsanto, a local company who was reaching out
to Girl Scout troops. Offering them large grants to participate in
FIRST Robotics programs in an effort to encourage more girls to
pursue STEM careers.
Our
society has viewed careers through gender dividing lenses often
portraying science, math and technology as careers for boys to
pursue. Monsanto, amongst other companies have used their influence
to work to overcome these gender stereotypes. As a little girl who
wanted to be an artist, looking back, they succeeded. Years of
involvement in the FIRST program has made me want to pursue
engineering with my art and become an Industrial Designer. I've
seen my teammates before me discover new interests and enter many
male-dominated fields in college. Stories like ours are proof that
girls don't make the minority of fields because they are incapable
or uninterested, but because they haven't received the exposure or
encouragement that we found in the FIRST program. As a team, we
wanted to share this experience and we realized, we didn't have to
be a public figure or large corporation to make a difference in our
community.
After
my first year in robotics, my team began sharing our experience with
our community. We gave presentations: at our county fair, to classes
at school, to local clubs and to our girl scout troops. They
especially, loved entering little programs into our robot but were
too young to join our team. So started a Jr. FLL team and acted as
their mentors and coaches. It caught on very well and eventually
created a system of feeder teams as the enthusiasm for science
technology and engineering grew. A transition from Girl Scouts to
Campfire allowed us to include boys on the team, recognizing the
benefits of diversity. We have made sure to keep our teams equal in
numbers of girls and boys to discourage intimidation.
Recognizing
that not everyone had the time to dedicate to being on the team, we
offered weeklong robotics camps. We used our FLL robots to teach
students how to build a program and robots step by step. We gave them
the challenge of completing missions and earning points on a game
field. As I've helped put on these camps I've seen countless
transformations. On one occasion, I found myself doing most of the
talking with two shy little girls. I helped them through tutorials
and answered timid questions. But the next day, they rushed to get
their laptop and the pieces of the robot they had been building. I
wasn't giving them guidance anymore… they were confidently trying
out new ideas and showing me what they had learned. The most
gratifying part wasn't seeing them earn points at the end of the
week; it was the confidence and pride with which they showed us their
accomplishments.
Application
Questions:
What
is the area in which you have chosen to volunteer?
Spreading
inspiration for STEM careers through interactions with my community
especially amongst young girls to show them STEM careers aren't
just for boys.
How
many hours per year / week / month have you volunteered?
Through
my high school career I have spent over 100 hours dedicated to this
goal.
These
hours have been made up by various hours of presentations at our
local fair and to groups in our community and the weeklong camps we
have run during the winter and summer each of which is 5 days, 3
hours a day and often back to back.
What
are / were your responsibilities as a volunteer?
Volunteering
I am a representative of my team, I speak and help give
presentations, as well as teach and lead students during the camps.
What
has been your biggest challenge as a volunteer?
One
of my biggest challenges has been getting students to open up during
the camps and have the confidence to try something do and do their
own thing. So much of school is learn and prove what you have been
taught. In robotics students explore using their knowledge,
creativity and imagination.
What
has giving you the most satisfaction as a volunteer?
One
of the most gratifying things for me is seeing the excitement on
kids' faces during the summer camps. They can't wait to problem
solve; learning becomes fun rather than an arduous requirement.
What
have you learned from your volunteer position?
I
have learned a lot about people skills and how to reach students
through presentations and camps. Besides external skills, I've
discovered how much of a difference I can make in other peoples'
lives and that I can be a leader in making the change I hope to see.
How
are your interests and career goals in alignment with that volunteer
focus, or perhaps not?
I
discovered a passion for engineering through my own involvement in
FIRST robotics and have hoped to spread the experience within my
community. This newfound interest paired with art has led me to
pursue a career in Industrial Design.
I
hope my part in sharing and establishing the FIRST Robotics community
locally will continue to inspire girls and boys to follow their
dreams and open their doors to the possible ways they can make a
difference in the world following their passions.
What
change do you seek to foster in the world via your volunteer
activities?
If
you were to come back in ten, twenty, or even thirty, years do you
think your volunteer activities would have "made a difference?"
How so?
I
hope that awareness of STEM careers will become more prevalent and
enticing to young people and that gender will not define what career
you can follow.