Name: Julian Tineo
From: Valley Stream, NY
Grade: 12
School: Chaminade High School
Votes: 0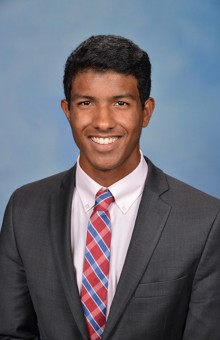 Julian
Tineo
Tell a story from your life, describing an experience that either demonstrates your character or helped to shape it.

I stepped onto the plane for a flight that I had made many times before, nonstop service from New York to Santo Domingo. However, this trip would be different than the previous ones. Rather than get off the flight to head towards my great-grandmother's home in the Dominican Republic, I would be going to a part of the country that was completely new to me. I set out on what I thought would be a week of meaningful volunteer work with a group of like-minded students. I
didn't expect to have an experience that would truly make me think about the way I viewed the world around me by teaching me lessons in positivity and family values.
            The group drove up to a small community called Pinar Quemado near a narrow river in which cows were bathing and children were swimming. I was just minutes away from the winding dirt roads that lead to the tiny community where my father grew up years earlier. This polluted river was the closest source of water available to the village, so we began work on the aqueduct that carried clean water to the community from three miles away. As soon as we arrived, residents young and old came out to help. After talking with some of the people, it became apparent that the sense of family and unity among them was unlike anything I had ever experienced in the U.S. While this trip was not packed with white-sand beaches like in our family gatherings, it was by far the most memorable and rewarding time that I spent in the country that most of my relatives call home. The trip reinforced my belief that the bonds in a community go beyond physical things and a lifestyle lacking objects doesn't equate to one lacking relationships.
             My travels are what inspired my love of learning about other cultures, and as a proponent of experiential learning, I plan to continue travelling and immersing myself in foreign environments to further understand the similarities, differences, and struggles of other people. I learned through my experiences that the greatest way to appreciate a culture is to get to know those who understand it best: the people who live and shape it. After researching the issues that face our environment
and society such as unsustainable business practices and growing racial tensions around the world, I realized that it is imperative to emphasize participation and interaction with other cultures. I hope to learn more about these issues through Arabic language classes in Jordan next year in addition to a service trip in Peru. I strive to make an impact in businesses and institutions that appreciate the importance of spreading the idea of social-responsibility, and I will be promoting such businesses through the launch of a website and newsletter that will feature environmentally and socially-conscious organizations. While I will always participate in service that benefits the community I grew up in, I now seek to lead projects in the worldwide community as well.