Name: Lauren
From: Charlotte, NC
Grade: Junior
School: Ardrey Kell High School
Votes: 0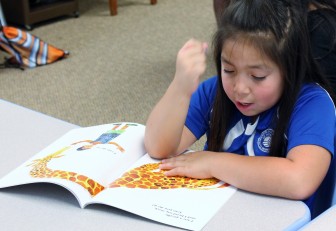 Essay by Lauren Morris –
The intrinsic value of servanthood and my dreams for the future
I
have been volunteering at a local non-profit for the past few years
called Learning Help
Centers of Charlotte (LHCC), focused on youth programs, education and
human services. Their mission is to serve low-income immigrants and
refugees and their children with holistic program services which
build happy, healthy communities. LHCC was established to break
generational poverty among at-risk children and families, by
empowering the next generation to stay in school and become
successful for life. Their value proposition is that they live among
the people that they serve and I have enjoyed getting to know
children and their parents from different cultures and ethnicities.
I
volunteer for two hours a week as I try to balance school
commitments, my studies, extracurricular sports and try to find a
decent balance in my busy schedule. I volunteer for over 35 hours per
week for six weeks over the summer months during summer literacy and
enrichment camps for these children.
I
believe that the key to addressing the underlying causes of poverty
is to seek to develop and empower people by building sustainable
relationships with them. The residency within these communities of
immigrants and refugees makes the program unique among service
providers. I do not believe in hand-outs, but rather hand-up's. I
think we need to be focused on quality transformational change,
rather than quantity of services and the expected high numbers of
children served. Transformation takes place one child and family at a
time. In my opinion, education is the key to breaking generational
poverty, and this starts at an early age when children are in the
formative years and learning to read, especially when English is not
their home language.
I
had the neatest experience recently when I was asked to help the
parents to learn English. Most of the parents we interact with speak
Spanish at home. I have recently studied Spanish at school every year
at high school, so I felt that I could really help them, as well as
learn conversational Spanish at the same time. Well, after a few
sessions, the mothers of the tutored children really started to trust
me and confide in me. I was able to see things from their
perspectives, help them better understand the US culture, and help
them to become comfortable with conversing in a second language. I
have encouraged parents that they do the same by encouraging their
own school-aged children, to learn, to read and make a success of
their lives with a good education. I can see myself doing this type
of mentoring and counseling in my future career. I found my passion,
to help others and understand how they think, operate and communicate
in a country where they have often felt like strangers.
The
biggest challenge is seeing the overwhelming need to help children
with homework and address their two- to three- grade levels behind
reading grades. However, this ongoing volunteer assignment, of
assisting both the children struggling with reading and helping
mothers to learn and speak English, has made me feel very useful,
appreciated and fulfilled. I have enjoyed the exposure to the
families we assist, the children, helping them with their education,
and learning new cultures.
"Forward
looking" means paying it forward, as I endeavor to help children
and needy families in ways that I took for granted when young and
living in more suitable circumstances, with good teachers and
encouraging parents. Each child that graduates from high-school and
proceeds to a fulfilling career is a positive outcome and a pay it
forward success story.
The
greatest change that I seek to foster in the world via my volunteer
experience is to encourage others to find their passion and help
others. There are many opportunities to make a difference in the
world, starting with serve opportunities in our local schools,
communities and non-profit organizations. Everyone can contribute
time, talents and insights and feel good about doing so.
I
feel that I have learned much from serving, perhaps even more than
those I am helping. I have been able to discern my future career and
vocation, based on this experience, as I am now pursuing a career in
psychology, counseling, teaching and the mentoring of young children
from low socio-economic backgrounds.
My
volunteer efforts will hopefully make a difference in the next
generation of children, as they too make the choice to "pay it
forward", and recall that caring people helped them when they were
young.
The
beneficiaries of my volunteer efforts have certainly included me, by
virtue of helping others. I have learned so much from this
experience, and have felt empowered to help others on their terms and
according to their needs. How do I know? Well, I see the smiles on
the children's faces and the joy in the gratitude of the parents
every time I meet with them!