Name: Katelynn Wilburn
From: Redding, CA
Grade: 12th
School: University Preparatory School
Votes: 0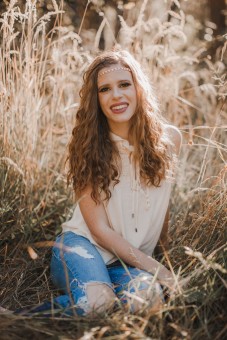 Katelynn
Wliburn
17
April 2017
Investing
In The Next Generation
A
big part of my life is being a junior high youth group leader at my
church. Becoming a youth leader was never a plan I had, but one day
the junior high pastor came up to me, and asked me if I would like to
join the team. After talking to him more about it, and talking to my
mom; I decided that maybe this is what I needed in life, and would be
fun. Now after doing in for 10 months it has become the highlight of
my week, and something I always look forward to.
I
personally help lead a small group of seventh grade girls. In our
groups we provide a save space for the girls to talk about their
lives, and to learn about God. We meet every Wednesday night;
starting with a leaders meeting and set-up at 6:15pm, and youth group
itself start at 7pm and ends 8:30. By the time everyone has been
picked up and we clean up were out by around 9pm, so for once a week
I serve two hours and forty-five minutes, and I love every second of
it.
As
a leader, we are expected to go to every meeting on Wednesday, and
our once a month Saturday meeting. Our Saturday meeting, is were we
talk about how the group is doing, and ways we can improve it and
make it an even more fun and welcoming place for junior highers to
come to. On Wednesday nights I help make sure the kids are being
safe, and that no one is being left out or is alone. After games, and
a message we break into small groups were I help lead a discussion
with seventh grade girls, as well as seeing how they are doing. The
hardest part of being a leader is keeping kids on task. As you could
imagine juniors highers are very energetic and a bit loud. As much as
I love their energy, sometimes I have to ring them in so that they
are being respectful of everyone around them. The whole experience
though is rewarding. I love being there for my girls, and I love when
they run up and tell me when something went just as they hoped. I
also love when they come and ask for advice and trust me with
something that may be bugging them, so that I can help them. Overall
I love my group of girls with all my heart, and cannot wait to see
what they accomplish in the future, because they're so bright and
creative.
From
my position as a leader I have learned that I have a love for
children, and that junior highers are much smarter than they are
given credit for. I have learned that I want to be a pediatric nurse.
They have taught me that there is still much to learn, and some of it
I can learn from them.