Name: Firat Taxpulat
From: Palmdale, California
Grade: 12th Grade
School: Highland High School
Votes: 0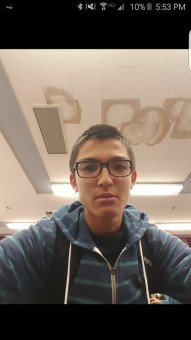 Joshua
Trees
Consisting of shriveled tumbleweed, arid sierras, and barren plains, the Antelope Valley has received negative criticism by its adolescent
inhabitants. Evidence of their reproaches is apparent by the abundance of Twitter posts eliciting the statements "#LeavetheA.V."
Although I opposed the disdain of these individuals, I quietly stood as a bystander uncompelled to mend their ill feelings.
In 2010, after relocating from Northridge to the Antelope Valley, I was uncomfortable with the notion of shattering my unfamiliar society's long-held pessimistic ideology. After being informed of the death of a local Hillview Middle School student, Nigel Hardy, I was appalled. Enduring the continuous harassment of teenage bullies for his cheerleading involvement, Nigel succumbed to social pressure and committed suicide.
The torments of Nigel's oppressors justified the pessimistic conception of the Antelope Valley and evoked my obligation to eradicate the widespread condemnation of the region; my cowardice was replaced with purpose.
I exerted my newly attained conviction by utilizing the national infatuation held by me and other teenagers: basketball. My efforts
constructed the non-profit organization A-Plus Sports Academy. Recruiting poverty-stricken students, I provided a refuge to the
members participating in the A-Plus Sports Academy program. Collectively motivating each other to strive for the forty-five-second goal during our "suicide" running drills, my teammates and I assembled close-knit bonds that are unavailable in some of the players' households. Supplying accounting classes with Wells Fargo bankers to the senior members of A-Plus Sports Academy, I initiated my teammates' pursuit of knowledge. Painting murals for our local church and cleansing the debris placed at Marie Kerr Park, my teammates revered the merits of their labor.
Treading through the parched landscape beside my home, I confronted the iconic Joshua tree. The rare plant's Biblical reference to Joshua leading the Israelites toward the holy land embodies the effect of Nigel's death over me. Although I never met Nigel, his passing directed my endeavor to institute appreciation for the community into the A-Plus Sports Academy members. Lastly, I pridefully erected an institution gleaming rebelliously against the despairing social stigma shrouding above my home, the Antelope Valley.