Name: Ethan Ferguson
From: Mint Hill, North Carolina
Grade: 11th
School: Independence High School
Votes: 0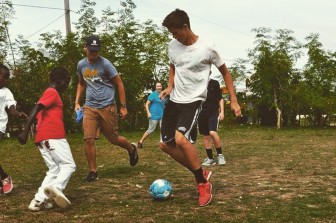 Today, the world
is more connected than it has ever been before, and tomorrow will see
an increase in this connectivity. The consequences of this are
numerous but the good outweigh the bad. Humility and love inspire
volunteerism that helps make the 24,901-mile circumference of the
globe seem much shorter.
For much of my
life, volunteering had little impact on me even though my family has
consistently been involved in volunteering. I was self-centered and
rarely sought out those who needed help. I was encouraged to build a
lifestyle of service about three years ago, through new friends and
mentors at church who helped me strengthen my faith. I have not
looked back because of the satisfaction I receive from serving
others. My family's example also continues to spur me forward.
My first major
service opportunity was a mission trip to Cleveland, Ohio in 2014. I
went with my church, and several other churches, on the trip
coordinated by World Changers. It was incredibly humbling and I still
consider it one of the most impactful weeks of my life. It was
amazing seeing the life change in the woman we were serving. Since
then, I have gone on mission trips to Elijay, Georgia, Pittsburgh,
Pennsylvania, and Gressier, Haiti. I have worked with homeless
ministries, math tutoring, my church worship team, vacation Bible
school, and yardwork for the elderly or disabled. On average, I spend
about 20 hours per month volunteering throughout most of the year.
During the summer, it is closer to 40.
On most of the
mission trips, we did minor landscaping and construction work but we
also made sure we invested ourselves in the individuals we were
serving. That aspect of volunteering is the most important.
Completing the physical labor is important but cultivating a
relationship with those we help makes the greatest impact. I often
find that if I approach volunteering cheerfully, then I feel
energized and my attitude is contagious. However, finding the time
and money to volunteer has been the biggest challenge. During the
school year, it is difficult to fit in volunteering with the school
work I need to accomplish, my job, and other activities. Mission
trips require hundreds, and sometimes thousands of dollars. Raising
money can be very challenging, especially considering the fact that I
have seven siblings and we struggle financially.

The biggest satisfaction I have from volunteering is not only seeing
the life change in those whom I serve but the change in myself.
Looking forward, I want to continue to be involved in community
service, both near and afar. I hope to motivate myself and inspire
others to start or continue volunteering. Years from now, I will
continue to reflect on how volunteering has molded me and those I
whose lives I influence. As small as one person may feel in the grand
scheme of things, history has shown how great the impact of one voice
can be in leading the way to major change.