Name: Haylee Kiedrowski
From: Holly, MI
Grade: 11
School: Holly High School
Votes: 0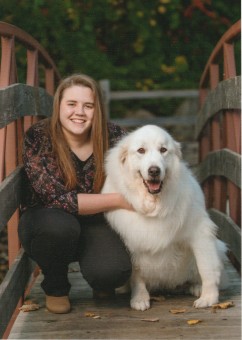 Just
One Person

Ever since I was little,
helping others has been a passion of mine; I love to improve the
lives of those around me. In middle school, I discovered that I could
do this on a higher level via the National Junior Honor Society by
doing community service. I am currently in the National Honor
Society, the Spanish National Honor Society, Rho Kappa, and Student
Council, where I commit my time to service opportunities through each
of these organizations. I would've never joined these groups if it
hadn't been for my first experiences as a volunteer.
Volunteering at Westlake
Health Campus was my first experience with community service. This
friendly environment seemed like a good place to begin my journey.
While there, I assisted with various activities, helping the
residents, some elderly and some disabled, that were participating.
Once the activity was done, I walked them back to their rooms and
conversed with them a while to brighten their spirits. Before this
experience, I had not spent that much time with the elderly or
disabled. This opportunity taught me how to interact with them in a
more casual way. During my time volunteering there, I often spent
one-on-one time with the residents; they told me many stories about
their lives and their experiences. These stories gave me a different
perspective about the world.
Because
of my love for animals, I also serve at the Humane Society of
Livingston County. When volunteering there, you can always find me
socializing the animals or walking dogs. Since many of these animals
were strays or were abused, socialization with friendly volunteers is
vital to their adoption; this teaches them that there are good humans
that they can trust. My experience here brought to my attention the
number of animals, like Pit Bulls, that have a difficult time finding
a forever home. My experience here influences me to advocate for Pit
Bulls and denounce the negative stigma associated with them.
I
enjoy doing community service, and I would like to continue doing it
as much as my schedule will allow. My biggest challenge as a
volunteer is that I want to spend more time volunteering at the
aforementioned places, but I am spread too thin doing volunteer work
for my honor societies and councils. I definitely see these
experiences as forward looking because I am gaining skills that will
help me succeed as a working adult. To me, forward looking means that
the activity will prepare me for things I may encounter in the
future. This also means that I can move on to larger and larger
opportunities for me to help my world; hopefully I will soon be a
part of a movement or movements to raise awareness or money for
necessary causes. When I look back on these experiences and
opportunities in the future, I will know that I have made a
difference because if I have helped even one person, I have made a
difference that was worth it.