Name: Lindsey San Juan
From: Santa Maria, CA
Grade: Junior
School: CSU Channel Islands
Votes: 0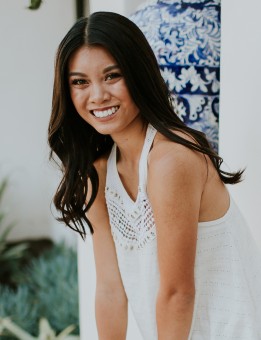 The Kids of the Future
There
is a joy that comes with the experience of helping others that is
indescribable. When I volunteer, I feel as if I'm fulfilling a
purpose I was designed to do. During my freshman year of high school,
I became involved with my local YMCA's literacy program as part of
their summer camp. This opportunity seemed to be the right fit for me
since I love working with kids and exploring the world of books. For
twenty- five hours a week, I was presented with the chance to help
children work hard in order to build up their confidence and expand
their minds, all while putting a smile on their faces. A group of
other volunteers and I choose books in relation to the camp's theme
that week and create projects related to the topics. For example, one
week's topic was about outer space and we taught the kids the
different phases of the moon using Oreo cookies. We also teach the
kids how to pronounce basic sight words and the correct ways to use
them in context. Sometimes, we would get children as young as four-
years- old, and we would have to review the different letters of the
alphabet and how to pronounce each one, since they didn't exactly
know how to read yet. I also taught a couple of art classes if a
counselor was absent that day. While it can be all fun and games at
times, every experience comes with challenges. The hardest thing
about my time as a volunteer would be any moment where a child feels
as if he or she is not capable enough to be successful. It is heart-
wrenching to see that kids think they're "too dumb" or "not
pretty enough" at such a young age. Most people believe that kids
are oblivious to the things around them, however, they are very
influential at this time in their lives and absorb so much more
information than we give them credit for.
My
time as a volunteer at the Y has given the satisfaction and knowledge
that I am able to motivate these children and be a role model to
them. Although I am their elder, they're the ones who inspire me to
be the best version of myself I can be so that they have someone to
look up to. Every time I see a child's face light up because they
pronounced a word right or observe the way their mind works as they
make up a story gives me a feeling of pride and reassurance that they
have the potential to go far in life. While it doesn't seem to be a
very significant change right now, I know that, in the future, these
kids will grow and possibly have the potential to become great things
for this world. From my time as a volunteer, I learned to be
responsible and patient with those around me. I was able to learn
more about myself as I spent time with the children and discovered my
love for working with them. When I am older, I wish to be traveling
nurse who provides her services and skills in areas who are not lucky
enough to have the resources. In college, I would like to study
abroad and spend time in third- world areas, such as Africa, in order
to educate children or build a new school for them. Being involved in
my community has taught me the smallest actions can have a big impact
on anything and that I should be involved wherever I can.