Name: Robert Watson
From: Wimberley, Texas
Grade: 11th
School: Wimberley High School
Votes: 0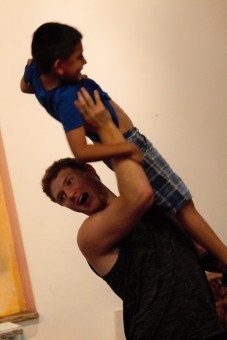 My family works in
ministry, so I have been volunteering as long as I can remember. I
have been on multiple mission trips, volunteered at summer camps, and
Sunday school. I also worked for the disaster relief in my hometown
when we had extreme flooding in 2015. However, the majority of my
work has been with Multi-Educational Youth Outreach, (MEYO). MEYO is
on the westside of San Antonio, an area high in gang violence, drug
abuse, teen pregnancy, and school dropouts. It provides after school
programing, tutoring, and character development, for kids from first
to twelfth grade. MEYO helps keep kids in school, and find post
graduation education. Most of the kids who finish MEYO are the first
in their family to attend college. I am passionate about MEYO because
I believe that education is the key to breaking the cycle of poverty.
I have worked with MEYO for five years, averaging 504 hours a year
(2,520 hours total). I have worked with MEYO's summer program,
Peace Camp. With Peace Camp I have been a counselor in charge of
supervising kids, leading games, swimming, archery, and art. My
biggest challenge as a volunteer has been understanding life through
the lens of the kids I work with. They face so many challenges that
are completely outside my own experience; from language and cultural
barriers, to neighborhood violence and drugs. The blessing is that
these kids have opened me up to a world I previously had no access
to.
The most satisfying
part of working with MEYO is hearing about kids who have actually
turned things around. When a kid you've been working with, who had
failed the 6th grade twice, is now graduating, with college plans,
the joy is almost immeasurable. Working with MEYO has taught me about
different cultures, the choices facing families who live in poverty,
and how much determination it takes to succeed in an environment like
this.
My experience with
MEYO has made me passionate about social justice. I plan on studying
political science and urban studies to learn how policy is made, and
how we can better deal with the issues that face our most vulnerable
neighbors. I hope that my work as a volunteer, will help create
opportunities for some of these at-risk youth, and help break the
cycle of poverty, one family at a time. Most of all I hope my journey
as a volunteer inspires others to be generous and work for the
greater good of all. There will always be problems and issues in our
world; but we will have to work together if we want to make any
headway.
I believe that if I
returned to the west side in 10 years, I would see kids who grew up
in the MEYO program with college degrees and good jobs, active
members of their community, striving to help others. I hope that my
time has made an impact, and inspired others to pursue a better life.
That would make everything worthwhile.