Name: Ademide Young
From: Reston, Virginia
Grade: 11
School: South lakes High School
Votes: 0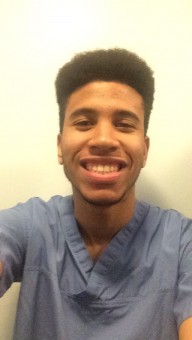 In the kitchen as a young child,I would always be in charge of
cutting the plantain. I would carefully slice the skin open with
minimum damage in an attempt to mimic a surgical operation I had seen
on TV. However, it was not until my uncle revealed to me a plan to
build a top class medical center here in Nigeria that my eyes really
opened to what I could contribute. The idea of becoming a doctor is
bigger than myself. My vision is to be part of a team to give people
the option to seek treatment in Nigeria, parallel to medical care
abroad. My hope is to play a role in the positive change of health
care in Nigeria, possibly even the whole of Africa.
Growing up in a
third world country, you are exposed to the unfortunate circumstances
that life has to offer; an experience that humbles you.
An affair that
particularly touched me was my introduction to a local orphanage.
Kunle's limbs were
painfully thin but his smile was wide and welcoming to me. Sitting on
the floor together, we laughed about Goofy's ears and his rickets
no longer took centre stage. How did he cope so well? I could not
pity but only befriend him, and keep our friendship going to this
day. Though orphaned, we have each other. I would never have imagined
at the time of my sister's offhand invite that such a connection
would have formed. Other children at the orphanage effortlessly
captured my heart, and such small gestures—donning a Spiderman mask
for laughs or bringing a much-favoured cereal, cerelac- helped their
stomach and soul.
Kunle's courage
against such challenges, both physical and emotional, still stays
with me. This was a tremendously rewarding experience, as uncared-for
children in Lagos, Nigeria tend to be neglected and committed to a
life of crime to escape poverty. I still maintain contact with the
orphanage. I feel a greater sense of commitment to this line of work
as I hope to accompany my uncle to positively impact the lives of
Kunle and others like him.