Name: Brandi Sutton
From: Cuyahoga Falls, Ohio
Grade: 11
School: Walsh Jesuit High School
Votes: 0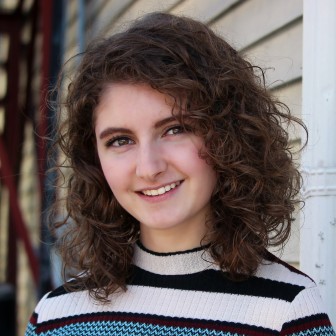 For the past year, I have been involved with the "Labre Ministry"
at my high school, which is a program that offers food and friendship
to the homeless people of downtown Akron. Every Monday, we put
together hundreds of bags containing food and clothing, and after, we
head out in vans to deliver them to the homeless who wait for us on
street corners, parking lots, or outside of the tents in which many
of them live. In order for me best explain what the Labre experience
truly entails, I think that telling the story of my first night as a
volunteer would offer the most justice to my point.
Our van was
pulling into the parking lot of a place called Hope Café. After a
few minutes of handing out soup to the people, I saw a man sitting by
the curb of the road by himself, so I approached him and asked him
how his day was going. He informed me that he was doing terribly, as
he hadn't eaten in over a week. He said that that he felt
disgusting and that I was in fact, the first person to ask him this
question in over a month since every single person who passes him
treats him as if he had a contagious disease or as if he were not
even there at all. I was at a loss for words. I am so fortunate to
hear the simple question of "how are you?" directed at me so
frequently. Until this moment, I considered this question to be a
common one. But billions of homeless men and women, such as the man I
met that night, never get asked how they are; this is a sad reality.
As much as we
want to justify the existence of poverty in this world, at the end of
the day, the homeless are still human beings. The acknowledgement
from other humans is what makes us feel human. It is hard to
comprehend that there are people in this world who do not feel human
because they are alienated and overlooked by their societies. When we
hear that nearly 15% of (or 45 million) Americans live below the
poverty line, it's easy to treat them as a statistic or a number,
and say "yeah that must be rough" and then let the thought slide
into the back of our minds since many of us are fortunate enough to
come home every day with a meal on the table and people to ask us how
we are. Volunteering for Labre has allowed me to see the unfortunate
realities in which the impoverished live and has given me a deep
desire to bring dignity back to these people through my service and
advocacy for basic human rights. I've had the opportunity to see
firsthand that the poor are not a separate species who live outside
of our own realities; rather, they are humans who require social
interaction and loving concern.