Name: Hannah Mackenzie Klaver
From: Rochester, NY
Grade: college student
School: Bryant & Stratton College - Greece Campus
Votes: 0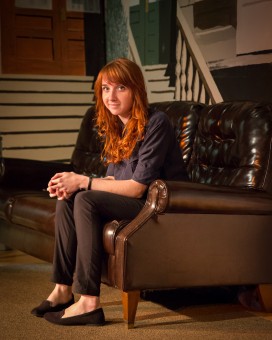 Learning A New
Language To Help Others
Hannah Klaver
Imagine going to a foreign country where you did not know the language. You would
probably be a little intimidated. Even a little anxious. You don't
know your way around and you can't easily communicate with anyone.
Now imagine someone coming to you and speaking in the language you
were raised learning. How refreshing that would feel! Well that's
what I volunteer doing. I am one of Jehovah's Witnesses and I am
learning French along with some Swahili and Kinyarwanda phrases in
order to teach African refugees what hope the Bible promises for all
of us.
I should probably premise with what exactly Jehovah's Witnesses do. Well we are
preachers and teachers of Jehovah God's kingdom. There are over
eight million of us in 240 lands all over the world. Every one of us
is taught the same thing. and teach the same thing. What exactly that
is, is what we read in God's word the Bible. Through our studies of
the Bible, we have found it to be a practical guide when learning
about our Creator and the principles in it help us live meaningful
lives.
One of the greatest things about being a witness, I believe, is the fact that the way we
operate everything across the globe, is solely on volunteering. All
of the literature we print is financed completely by voluntary
donations. Not one person is paid to do this. We do it because we
love our neighbor and fellow man and want to teach people the
wonderful things we have learned. In the world we're living in,
people are eager to hear some good news. I had the privilege of
serving as what we call a Regular Pioneer where I signed up to do 840
hours of this volunteer preaching work a year. That's about 70
hours a month. And I did this for three years.
Its pretty difficult to keep up with the commitment of putting in that many
hours while also trying to balance a job and an education. It taught
me how to prioritize what was important to me though, and time
management. I have now reduced my hours to only 50 a month though,
and now I'm attempting to learn a new language at the same time!
Adds a whole new level of busy and dedication to this work.
I just love how there are no divisions either. I couldn't very well want to learn a
new language and help out people from other countries and backgrounds
if I was racist or thought of myself as a better person than everyone
I interacted with. We must conduct ourselves always in love. And what
an amazing way to learn about other cultures. It is really a a
blessing to receive such an interchange of cultural education. I feel
as though it has widened my view of the world. You grow up in an
area, but if you never explore outside of it, or experience anything
different, how do you know what the rest of the world lives like or
has to offer?
What I'm really looking forward to is using my education to obtain an amazing job
that will aid in furthering my volunteering efforts to other
countries. My dream is to go to Africa. I have friends in Burkina
Faso and I'm already saving all the money I can to get over there!
And if I get this scholarship, then I get to use the money that will
be covered by it to fund my missionary volunteer service.