Name: De'sha Jackson
From: Oak Ridge, MO
Grade: 10
School: Oak Ridge HIgh School
Votes: 0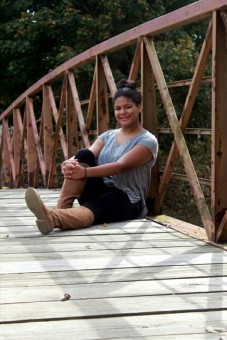 Youth
Leadership Trip.
For the youth leaders of Bethel Assembly of God In Cape Girardeau, our youth pastor arranged a surprise leadership event. On the trip I learned a lot about one's trust in faith, and even in strangers. While on the church van, all the student leadership kids were trying to guess where we going, after awhile everyone grew silent and it seemed like the leadership kids really trusted our youth pastor. As soon as we got to our destination, everyone grew very excited because we were going to work in a homeless shelter, to experience what it is like to be homeless in that area and to help out the few days we were
there.
During the first part of the course, we were told to pick someone to partner up and make sure we do everything correctly so we can move on to the next part. After a few minutes of waiting of a few of the other student leaders to go on with their stories to the instructor about how we thought this experience would change us, the instructor gave each individual a piece of advice to help them do the next few obstacles that were going to face our way. Even though i didn't
really know the man, i felt like i could really trust him. I spent a few seconds and making sure i understood everything before making my final decisions that is what i really want to do with my life.. After a few days of being at the shelter and being put to the test to figure out the real meaning of being homeless, I realized that as humans we have this uncanny desire to trust strangers quickly.
During the time being there,, I started to realize that my trust in my faith (religion) was growing stronger over the period of time it took me to complete each obstacle that was put forth to us. . As the days went by and i was standing around, i looked at the other members in our youth leadership and realized that they either really trusted God or wanted do this youth leadership because their friend joined. As i was looking around the room, i begain to here a few of the other leaders
talking about how their faith in God had changed. I would like to believe that this is true among most people that believe in a God (or multiple Gods) because throughout their life or event, they are going through something that they might do everyday. So they need to have a strong foundation of trust in God so they can feel safe and secure.
I think the real reason people have a strong trust in others and in faith is because they use it as a security blanket and it makes them feel safe. During the trip I realized several times that i strong trust in my youth pastor, not because he was an adult, but because i could tell that he knew what he was doing and that he really had strong trust in God. After i got home i realized that there is more in trust in what there seems.