Name: Shelby Schrager-Sours
From: Tempe, AZ
Grade: Freshman in College
School: Arizona State University
Votes: 0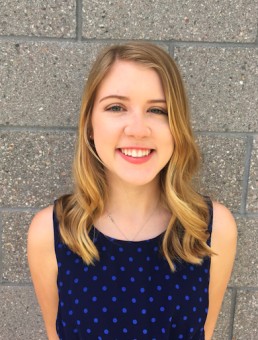 My
service experiences are the driving forces that push me to be who I
am today and discover my passions. In high school, I got involved on
campus in my student leadership class which provided a good
foundation of leadership skills and school involvement. My favorite
event I planned was during senior year of high school where we
created a week-long fundraiser for the Make-A-Wish Foundation.
Coming
to ASU I was unsure where my service journey would begin. I started
off by joining Chi Omega after hearing about their 17 million dollars
raised nationally for the Make-A-Wish Foundation. I am so passionate
about this organization because of its connection to helping children
with life-threatening illnesses. This is something that directly
connects to my future career goals and what I want to give back to my
community. This last year I helped ASU raise $28,000 for the
foundation. In December of 2016, after serving on Chi Omega's
service committee, I was elected onto the executive board as The
Director of Community Service. I manage the service hours of 250
women and I am in contact with local service organizations to
coordinate volunteering opportunities. I also work closely with
Make-A-Wish headquarters in Phoenix to plan fundraising events on
campus and make wishes come true. This summer I will be working as a
Referral Intake and Medical Outreach Intern for Make-A-Wish.
I
am also a counselor for Camp Kesem, a summer camp that ASU students
fundraise for and create for children who have a parent suffering
from cancer. In this position, I serve as a role model and friend for
kids who go through so much daily. For many of them, they must be an
adult in their family and do not have very much time to play or hang
out with friends. The camp helps them to take a week to just be kids
and forget about all their worries. I love this organization so much
and it has impacted me so much as a person. Kids are truly the most
positive people and have changed my outlook on life for the better. I
am so grateful for all the leadership skills I have gained through
service so far in college.

My career goals are very exciting to me because
I am inspired by so many things to work towards them. Working with
kids has always been something that I am very passionate about. Most
the leadership positions I have held in the past involve kids and
these amazing experiences have led me to aspire to work in the
Pediatric ICU. When I picture my future, I see myself helping kids
and families through what may be the hardest times of their lives.
Eventually, I hope to go back to school to get by masters and become
a Pediatric Nurse Practitioner with my own practice. After this I am
interested in becoming a professor to help educate future pediatric
nurses in all that I have learned along the way.