Name: Kaitlyn Roberts
From: Roanoke, Virginia
Grade: High School Senior
School: Cave Spring High School
Votes: 0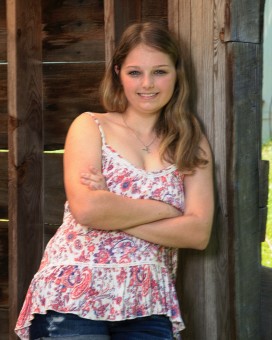 I have had canines as pets for as long as I remember. They have always
been an important part of my family, but it was not until I was older
that I learned that not all dogs had the life that my pets did. There
are over one million dogs that are abandoned, dumped, abused, or
destroyed every year. Knowing you can help some of them, even if only
for a short amount of time, is what rescuing and helping dogs is all
about. In return, I have learned how to be more responsible,
compassionate, loyal, and charitable to people and animals.
In 2010, I was eleven years old and my family obtained our first rescue
dogs, Jetta and Molly. My mom and dad saved them from a backyard
puppy breeder while we were living in Wilmington, NC. Both dogs had
never been socialized as they spent their entire lives in a crate. I
had never been responsible with the dogs in our family before, but
seeing these toy Pomeranians so scared, so starved of love, all I
wanted to do was hold them and pet them all day telling them
everything was going to be alright. I learned that performing simple
acts of compassion like this will always have a positive effect on
someone or something else.
Alex, our Teddy Bear Pomeranian, was a rescue from Missouri that we got on
Christmas 2012 through my grandmother's rescue organization (The
Road Home Rescue). After spending 7 years in a horrible abusive
environment, he had been dumped off at a kill shelter with a tar like
substance poured over him. My heart took to Alex immediately and he
became 'my dog'. I took responsibility for feeding him, walking
him, giving him a bath, and making sure he goes to the vet when
needed. In return, Alex is loyal to me and sleeps in my bed at night,
not wanting to stay with anyone else. While I was living in
Charlotte, our neighbors asked me to take care of their dogs while
they went away on vacation because they saw how responsible I was
with Alex. Today with our other dogs, I regularly find myself helping
out without being asked.
Nikki, the Yorkie, is the latest addition to the family, joining us in 2014
when she was brought into a veterinarian's office in South Carolina
and the original owner said "I don't want her anymore and I don't
want anyone else to get her, so put her down." Thankfully, the vet
took her and told the lady it would be done, but instead contacted
rescue organizations. Hearing Nikki's story, I begged my dad to let
us have her because I knew in our family, she would never be in a
situation like that again. When we go to PetSmart or a similar store
that hosts rescue organizations, I donate some of my own money to
rescue organizations to help them continue their good deeds.

Over the past couple of years, my family and I have helped over 20 dogs be rescued and be
given a second chance at life in forever homes up and down the
Eastern Seaboard. Each of the dogs may have had its own sad beginning
but will end up living out the rest of their days with loving people
as an actual part of a family. Outside of learning to be more
responsible, compassionate, loyal, and charitable, there is no better
feeling than knowing you were part of changing the lives of those
dogs and their new owners forever.