Name: Cameron Joy Gaspord
From: Harris, Minnesota
Grade: 11
School: Cambridge-Isanti High School
Votes: 0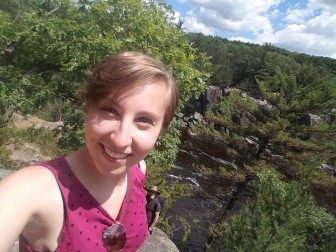 Every
Sunday morning between September and May for the past 3 years I have
chosen to volunteer for 2 hours as a Sunday School teacher at my
church. I am responsible for up to 20 children ages 3-6 during that
time. It is my responsibility to ensure that all of the children have
supplies for the craft of the day, as well as help them complete
their craft if they are having trouble. I teach them songs that they
will sing in front of the congregation, and I read them the weekly
bible story and explain to them what the message tells us.
Relating
age-old bible passages to such young children has proven to be rather
challenging. It always takes a bit of brainstorming to relate these
stories to the children's own lives, and to explain to them with
words and concepts that they can understand. Simplifying these
lessons without losing part of what makes them meaningful is not
always easy, but the children are well behaved and are excellent
listeners. I have learned that asking them questions about the lesson
as we progress helps to convey to them the main idea and helps me
articulate the overall meaning in a comprehensible fashion.
It
is always satisfying to see a child ask a question about the days'
lesson, or to hear them telling their parents about what they learned
as they leave. Helping them with crafts is also very enjoyable, and
it's always interesting to see how each one makes their own craft
unique. Craft time is most often the best part of the church service
for the kids, and seeing their enthusiasm over glitter glue and pipe
cleaners is gratifying.
In
my time as a teacher I have learned so much about children and how
they respond to their environment. Volunteering has taught me how to
relate to these kids and how to mediate between them; how to work
through a problem with them when they are upset. It has made me more
compassionate and helped me learn to be a better leader – something
many could hope to learn from other volunteering opportunities.
I
believe that the lessons and values I help teach the children will
stay with them for some time. For me, "forward looking" means
lessons or skillsets that will remain prevalent as we move forward
into our future. My participation as a volunteer teacher provides a
good example for the children in my community, and it is them that I
seek to change and help grow via volunteering. I also continue to
grow and learn along with them. The values I have helped to teach
these young children include compassion, acceptance, and teamwork.
I'm certain these values will continue to impact them far into the
future.