Name: Samuel D. Giordano
From: Paulsboro , New Jersey
Grade: 11
School: Paulsboro High School
Votes: 394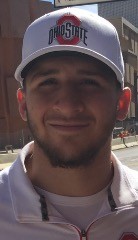 Community service is defined as work done by a person or group of people that
benefits others. It is often done near the area where you live, so your own community
reaps the benefits of your work. While technically you don't
receive monetary benefits for community service, I believe you do get
paid in other ways. My payment is in the form of changing someone's
life for the better, which provides the most satisfaction to me as a
volunteer. Putting a smile on someone's face is a much better form
of payment and reward in my opinion.

I contribute to my community in many ways, but am most fond of
Operation Christmas Morning (OCM), which is a very important fund raising event to me.
I chose this because I can say that I never went without growing up and was very
fortunate. I've seen other children growing up who not only went
without receiving gifts at Christmas, but also went without basic
necessities, which always broke my heart. My cousins co-founded this
nonprofit organization to provide Christmas presents to
underprivileged families throughout Gloucester County. I volunteer
by soliciting unwrapped gifts, donations of any denomination, or
baskets to raffle prior to the event. At the event I assist with
selling raffle tickets, auction tickets and assist with collecting
donations/Christmas presents. Necessities such as food and clothing
are also provided to families in need. I volunteer approximately 50
hours a year helpingOCM.

This organization has made a positive impact on me, by gaining the
understanding that there are so many underprivileged families that do
not have extra money to provide Christmas presents for their
children. But I'd have to say that one of the biggest challenges is
that we still cannot reach every family in need.
Forward looking to me means just planning and preparing for the future. Not
only through volunteerism, but also for my education and career path.
My goal is to enter the medical field where I can help people to
heal, which I believe is definitely aligned with my volunteer focus
of helping others. I will continue to volunteer as I've always done
in the past because it is very rewarding to know that I can make a
positive change in someone's life. The ultimate change that I'd
want to foster in this world is that through volunteering, I will
inspire others to pay it forward and help the less fortunate. I truly
believe that if I were to move away and come back many years down the
road,OCM would still be operating and reaching more unfortunate families than ever
before. And I am sure that those who benefited fromOCM,
will volunteer by my side because that's how my community makes a
difference.Like Mahatma Gandhi once said, "The best way to find yourself is to lose
yourself in the service of others." What I have learned fromOCM
is that I am finding myself by changing my community one life at a
time.