Name: Amanda Urgolites
From: Hastings, Pennsylvania
Grade: College Freshman
School: Pennsylvania Highlands
Votes: 0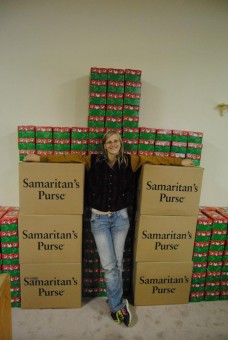 Amanda
Urgolites
Pennsylvania Highlands Community College
Youth
Forward Scholarship 2017
Love
in a Box

My
name is Amanda Urgolites and I have a huge heart for a charity called
"Operation Christmas Child" I choose to put my time, money
and heart into this cause to make a difference and give children in
war torn countries a chance at joy, peace, and coming to know Jesus
Christ as their Lord and Savior. I do this by filling shoe-boxes with
school supplies, shoes, toys, hygiene products and much more to be
sent across the world and to be given to children who have nothing.
Every
year I put in hundreds of hours toward buying, making, collecting,
sorting, and packing items into shoe-boxes. The biggest challenge of
giving my time and heart to this cause is knowing that there are
children across the world who have never received a gift in their
lives, nor heard about Jesus, and that I can only send one small box
of items to each child. The most satisfaction that I have had as a
volunteer came from receiving a letter back from a child living in
the Dominican Republic. The letter was from a child who had received
one of my boxes and was lead to Christ through the organization. As A
volunteer I have learned that God can use anything to reach his
children. Big things can come from the smallest and most
insignificant items that we take for granted daily. Being a future
Preschool educator, my career goals align perfectly with the focus of
Operation Christmas Child; to give every child a chance at a joy and
love filled life.
Through
Operation Christmas Child I can only hope that each child who
receives a shoe-box will be able to look towards their future. To me,
"forward looking" means to have the ability to look to the future
and see a brighter reality than the one that currently exists. For
many children, that perfect future is simply being loved. By
volunteering with Operation Christmas Child, I hope to change the
hearts of thousands of children as I pack and send over 300 boxes a
year. I hope to see a change in schools, so that they are no longer
forced to share one or two pencils among the entire class. I hope to
see children acting like children, running and playing with one
another. Most crucially, I hope to see a change in the hearts of
children across the world. In the following years, I truly believe
with all of my heart that my volunteer service will have made a huge
impact on the lives and hearts of poverty stricken children, all in
Jesus' name.