Name: Claudia Maddy Folger
From: Orono, Maine
Grade: High School Senior
School: University of Maine
Votes: 39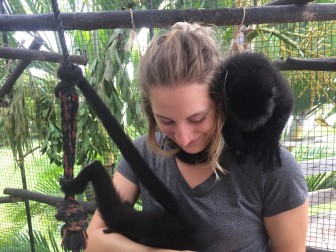 Claudia
Folger
If Not You then Who?
Volunteering in my belief, helps shape people be more well rounded and is an
important part of our society and it's
movements. Throughout my high school I took on volunteering
opportunities including being a junior counselor at a summer camp,
working the local summer festival, working at the local soup kitchen,
coaching little kids in field hockey, and giving out water at road
races. Growing up in the woods of Southern Maine, I fell in love with
hiking, animals, plants, and everything nature. I've
always known I wanted to go to school for environmental science and
help preserve our ecosystems biodiversity.

In the spring of last year I was told about a volunteering
opportunities in Sarteneja, Belize at Wildtracks, a non profit
primate and manatee rehabilitation center. Most primates in the
rehabilitation center had been a previous pet in the illegal pet
trade and would come into the center extremely malnourished. Living
on the"farm" as we called it, volunteers were put to work, working seven days a week starting the
day at 7am and working until 5pm with the exception of a lunch break.
As a volunteer I had many responsibilities, I worked in the nursery
where I fed baby black howler monkeys, cleaned up after them, and
offered support towards interactions with the other monkeys. I also
fed the Peccaries on the farm, did Manatee breathing observations,
and fed a troupe of adult howler monkeys. Then helped with any tasks
that needed volunteers, like if an animal needed assistance or the
daily cleaning tasks.
At first my biggest challenge I faced as a volunteer was adjusting to
the living conditions. We slept in a cabana with a bug net while it
was hot and humid and were limited to showers due to a solar powered
water pump. We also had limited access to internet and limited power.
However, these things ended up being a huge reward, I found myself
appreciating the things in life that really matter. We were able to
bond more with each other, the animals, and our surroundings.
Watching the progress of the animals I worked with throughout my
three months was truly amazing and I would not be as passionate about
fighting the illegal pet trade if I did not see first handedly it's
negative impacts on the animals. Without the volunteers the facility
would not be able to care for as many animals as it does, and the
success rate of animal releases in my belief would be much lower. I
found that everybody helped and that we were all there for the same
reasons. I hope to go back to Belize down the road from now and see
that the illegal pet trade is over or decreasing with the help of the
Wildtracks organization and my kids in my generation pursuing fields
in the sciences, volunteering, or just being an active voice in the
conservation movement.