Name: MaryHelen Goldstein
From: Mulberry, FL
Grade: 10th
School: Harrison School of the Arts
Votes: 0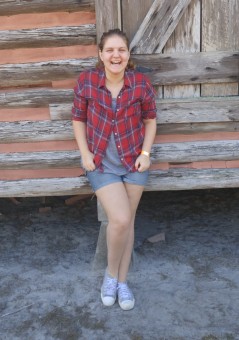 MAY
THE SHOW GO ON
By
MaryHelen Goldstein
Ever since I was a little girl, I've had a huge love and interest in the
theater and performance. I always loved acting out my favorite scenes
in films and television shows, and I knew that the stage was where I
belonged. However, when I couldn't get a role in a show, I also
love helping out backstage at shows, filling in as one of the theater
technicians. Even though I would rather not be a theater technician
when I grow up- I would much rather be on stage than behind it- it is
a way for me to learn the production of theater.
I have volunteered for three years, helping out at both my community
theater's shows and my high school's fall musical. For each show
that I volunteer to help out on, I spend approximately eighty hours
moving set pieces, handling props, assisting in costume changes, and
other such activities that a produce a perfect show. To count the
hours, I factor in the time I spend in rehearsals, performances and
the overtime that is often required if a prop needs to be fixed.
Sometimes being a theater technician is difficult, because if something goes
wrong, you are forced to deal with the blame being put on you. They
are the people with the least credit, even it is them that makes the
show goes on. However, I choose to help backstage because I have a
great appreciation for the invisible people who give their time and
effort to making sure the performance runs smoothly. It gives me
satisfaction to know that I aided to the production of a full
performance. For that very reason, I see theater tech as an
optimistic opportunity that will assist me in the future when I am
ever in a major production and can offer an extra set of hands
backstage.
From my time as a theater technician, I have learned that every person in
a project counts, no matter how small. It humbles me as someone who
is used to being on stage and the center of attention. I want to
give a greater voice to the people in black who run a show. When I
return home in about ten years or so, I would like to see the result
of an ongoing effort of mine to boost recognition for technical
theater volunteers.