Name: John Solomon Hollingsworth
From: Conyers, GA
Grade: 11
School: Rockdale Magnet School for Science and Technology
Votes: 0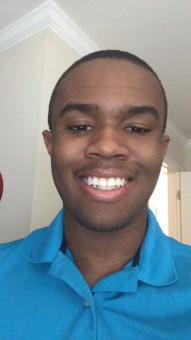 Growing up in grade school, you always hear people talking about world hunger. When most kids hear about world hunger they immediately have images of different poverty stricken foreign countries throughout the world in their brain.
They often fail to realize that hunger can be right next door. That was something I too failed to see, up until the Thanksgiving of 2012. My uncle invited me and my brother to come and volunteer at his church's food bank. Now, me being a 11-year-old boy, I wasn't exactly too sure what to make of this. I didn't even know what a food bank was, but I was anxious and eager to start. After getting a quick rundown of what to do and expect at the food bank by the supervisor, that's when it was time to open. I had no words for what I saw when the doors finally flung open. There were at least a hundred-people waiting to come inside and get food for their families. I was just completely overwhelmed with emotion I just had to cry. I couldn't believe that so many people not even outside a 5-mile radius of me didn't have food to eat that day and quite frankly most days. It made me see that there's probably someone I know who is going through the same thing. It was just a complete culture shock.
After the food bank closed that night, I just thought to myself that I couldn't just sit by and not try and make a change. I gave the supervisor my dad's phone number and asked him to let him know whenever they were open. From that day, on over the course of these past 5 years I come and volunteer at least 3-4 times a year. I also bring canned goods and other produce about once a month to help stock the food bank. That day just touched my life in a way that I never even expected. Seeing how happy these people were to receive food to share with their families warmed my heart hotter than the Sun. Sometimes we find ourselves complaining about the minor, unimportant things in life, while some people have to worry about whether they will even eat at night. Volunteering at the food bank just taught how important is to lend a helping hand and be a good neighbor because you never know what someone is going through.
My biggest challenge though, is that I don't always have enough time to help when I want to help. I must juggle school, sports, and my other extracurricular activities with my volunteer work, and sometimes it becomes alot. But I always try my best to volunteer whenever I can. In the future, my goal is attend college and major in pre-medicine/biology and use the values I instilled from my work at the food bank to make a difference in the medical field.