Name: Kestrel Barnes
From: Great Bend, Kansas
Grade: High School Graduate/Attending first year of college
School: Great Bend High School
Votes: 0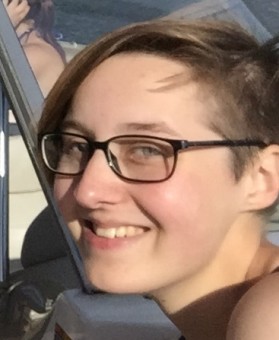 Meals
and Positivity on Wheels
Anyone
can work for their own benefit. It is easy to find the motivation to
work towards a paycheck. It takes a special, caring, empathetic
person to work for someone else's benefit, to work for no reward
other than the satisfaction of helping someone else who is in need. I
have had the opportunity to volunteer through the organization Meals
on Wheels for a few months, and it has helped me grow as a member of
society.
I
never did any volunteer work in high school. I thought it was not
worth my time. However, when I entered college I became a member of
Phi Theta Kappa, which is a national honors society that honors
community college students with outstanding educational
accomplishments. The organization Phi Theta Kappa heavily encourages
community service and volunteer work, and through that motivation, I
took my first plunge into community service. I chose to become a
volunteer for Meals on Wheels, which is an organization that delivers
food door to door to house bound or disabled elderly people. I chose
Meals on Wheels because when I was a child, my mother was a MOW
volunteer, so I was already slightly familiar with how it worked. My
MOW volunteer position lasted a few months of the summer, and it was
an hour or so every Friday. I was a delivery person, meaning I got a
certain route and list of people and I had to go to their homes to
give them their meals for that day. At first I was nervous, because I
did not know what to expect from the older people I would be
visiting. But, after a few visits I came to realize that the people
truly enjoyed my visits. They were always so kind and appreciated me.
They looked forward to seeing me every Friday which really made me
feel a sense of joy and accomplishment.
I
was extremely glad I had the opportunity to volunteer through MOW.
Delivering four or five meals to house bound people may not seem like
much in the long run, but when you realize how much you and your
services mean to the MOW clients, it truly feels like you made a
large difference in a select few peoples' lives. A little can go a
long way, and making a small group of people happy or making them
feel like they matter can produce a strong, positive ripple through
the larger group of people that is society. I know I will look back
at my time as a volunteer with a smile. I hope that I will be able to
find the time in the future to do more community service and make an
even bigger difference in the world.