Name: Seyan Ayinde
From: Rosenberg, Texas
Grade: 10th
School: George Ranch High School
Votes: 0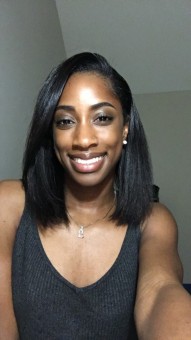 Last
year I began volunteering with Creative Peace, a non-profit agency,
that provides resources in the community to individuals suffering or
dealing with mental health concerns. Some individuals suffering from
mental illness may become high school dropouts, experience
unemployment, homelessness, and sometimes incarceration. One of the
reasons I decided to volunteer with this organization is because one
of my close friends was experiencing difficulties with mental health
illness, medication compliance and unemployment. Creative Peace
provided her with a care package. This care package included
information from the National Alliance on Mental Illness (NAMI),
provided personal hygiene products and some healthy snacks. My friend
and her family was extremely thankful to receive these items and
information. Thus, I decided to become involved and assist other
families who were experiencing similar difficulties. My primary
responsibilities while volunteering with Creative Peace is to pass
out mental health pamphlets, go shopping and purchase items, assemble
care packages/gift bags, and pass out the gift bags. Many of my
volunteer hours includes working in concession stands as a cashier at
local entertainment establishments.
On
average, I volunteer up to 10 hours a month with Creative Peace. Most
of my volunteer hours were obtained during the summer. I enjoy
interacting with customers at the concession stands and raising funds
to assist individuals in the community. Volunteering with Creative
Peace has been a humbling experience. One of the challenges for me is
to witness individuals who refuse to comply with taking medications,
and receiving or applying for assistance. A few of my experiences
have also been heart breaking to observe. It's extremely difficult
to watch pan- handlers or families beg for money on the side of
intersections adjacent to major highways. It is also difficult to
observe individuals argue with their loved ones and refuse to get
help. Many of the individuals are not aware of the choices that they
are making and how it affects their lives.
Recently
I had the opportunity to purchase canned food, nonperishable items,
and healthy snacks such as baked beans, tuna, string beans, corn,
soup, chili beans and drinks Kroger Grocery Store. The director of
Creative Peace gave me a $150 gift card to purchase canned foods
items for a local group home. After I purchased the items, I packed
the food into boxes and the next day I delivered the food to the
director of the group home. The residents of the group home were
extremely appreciative and thankful for the donations. I am thankful
that I was trusted to purchase and deliver the food items. I also
experienced personal fulfillment and gratification because I made a
difference in somebody's life.
In
addition, the benefits of providing insightful information and gift
bags are enormous. After receiving the gift bags, I have witnessed
smiles on faces because this showed that people care. This gesture
and act of kindness provides hope to individuals with mental health
concerns. I have gained a wealth of knowledge since I have been
volunteering with Creative Peace. First I have learned that there is
a need for awareness and education to assist individuals with mental
health issues. There is also a need for assistance in obtaining
medical or monetary benefits, legal representation, and housing. So
many people were not aware that NAMI provides emotional support to
families and counseling to individuals who suffer from mental health
issues. There is a need for more volunteers, financial support, and
education on the topic of community mental health. Personally, I feel
blessed to have had the opportunity to offer my service and to
support Creative Peace which is a charitable, helpful, and caring
organization.